Bourbon chicken is a dish usually prepared from bite-sized pieces of boneless chicken which have been marinated, cooked and served in a special sauce that usually contains bourbon whiskey. The name of the dish is generally thought to reference the sauce's main ingredient, but some hold that the recipe is Cajun in origin and is named for Bourbon Street in New Orleans. Bourbon chicken is generally available in the United States in fast food outlets in many malls, in many barbecue restaurants, and in some Chinese restaurants. It is characterized by tender meat, a rich, spicy-sweet flavor, and in most cases a thick sauce. Bourbon chicken is always a standout dish, and is best accompanied by rice and vegetables prepared very simply.
When served in restaurants, bourbon chicken usually is prepared from the dark meat of the drumsticks and thighs, and is tender and juicy. When chicken breasts are used, they should be velveted, the Chinese method of marinating meat in a mixture of egg white and corn starch, to avoid the white meat drying out while cooking. In addition, while some recipes don't require a marinade, the dish's flavor always benefits from marinating for at least a few hours, and preferably overnight.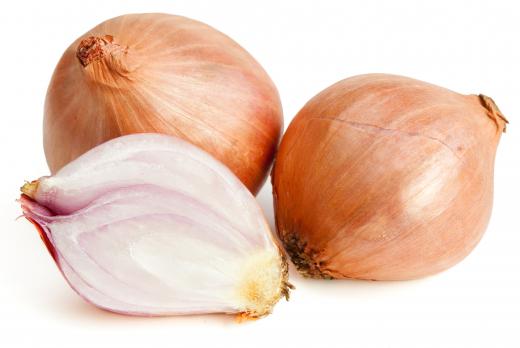 Unless the chicken is to be grilled, it is first cut into pieces; if marinated, the marinade becomes the cooking sauce. The marinade or sauce is bourbon-based, and the alcohol content evaporates as the meal is cooked; apple juice may be substituted if desired, but the flavor will be significantly different. Soy sauce is sometimes added, but not in a greater quantity than the bourbon. Barbecue sauce appears in some recipes, and many call for ginger and red pepper flakes.
Depending on the style — Cajun, barbecue or Chinese — there are variations in the ingredients of the marinade or sauce. Spiciness is imparted with such ingredients as garlic, red pepper and paprika. Recipes for a sweeter dish, such as might be served in a barbecue restaurant, call for more brown sugar and sometimes molasses as well. Onions or shallots feature prominently in some versions, and those with a Cajun flavor often call for Andouille sausage.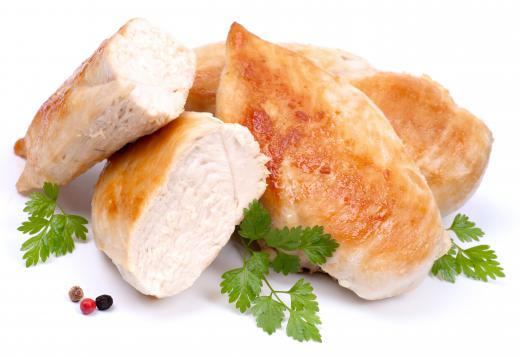 Usually cooked in a pan or wok on top of the stove, bourbon chicken is sometimes baked or grilled. If they are to be grilled, drumsticks and thighs are left whole, marinated beforehand and basted with the marinade every few moments during grilling. Baked bourbon chicken is placed in a baking dish and cooked uncovered in the sauce. When prepared on the stovetop, bourbon chicken is first seared, with the sauce added after a few moments, after which the mixture is cooked until the chicken is done and the sauce has thickened. The chicken may be made crisp by dusting it with cornstarch before searing; dredging it in cornstarch will make it very crisp.
AS FEATURED ON:
AS FEATURED ON:








Many bourbon chicken recipes include shallots.

By: roobcio

Paprika, which is often used to make bourbon chicken.

By: Christian Jung

Chicken breasts are a good source of lean protein.