Have you ever received an invitation for a party and written across the bottom were the letters BYO? No, it's not a request to respond by a certain day; quite simply, BYO stands for "Bring Your Own" as in bring your own booze.
There are many reasons a host will ask you to BYO to a party or an event. If he himself doesn't imbibe, he might suggest his guests BYO. This will allow him a sober evening, but enable those who wish a glass of wine or bottle of beer to bring their own along, if they're so inclined. However, some people don't drink for religious purposes, if this is the case with your host; do check with them before bringing alcohol to their party. To BYO might be considered an affront. Some people would rather not have alcoholic beverages in their homes at all.
Another instance in which you might be asked to BYO is if the host doesn't have the budget for booze. Alcohol can be expensive; to buy enough for everyone can clean out a wallet. Potluck dinners are also places where you might be encouraged to bring your own.
Plenty of restaurants aren't zoned for alcohol or are don't have a liquor license. Rather than expect their guests to forgo enjoying a bottle of wine with dinner, they'll allow patrons to BYO. Call ahead to the restaurant and find out their BYO policy. Some charge a "corking" fee if their servers have to open your bottle, you might also incur a charge if you use their glasses. If this is the case, you might want to forget the BYO, or bring your own corkscrew and glasses.
How do you know if a restaurant is BYO only? If it advertises in the local paper it will usually have "BYO" at the bottom of the ad. Also, it will be listed on the menu. If you're unsure, there's nothing wrong with calling ahead of time to find out.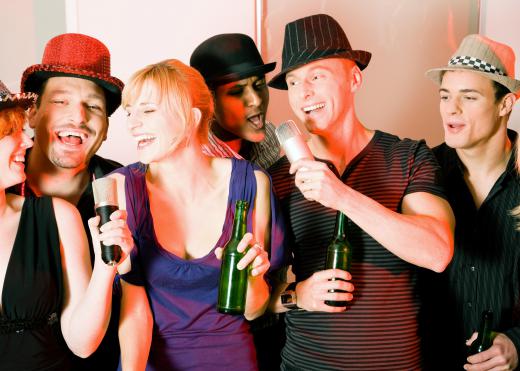 Something else to consider, some hosts don't stock alcohol because they have drinking issues. If this is the case, you might want to forgo the booze altogether. Your host may be offering a BYO situation to be polite. If he's only recently on the wagon, the last thing you want is to offer temptation.
AS FEATURED ON:
AS FEATURED ON:








By: .shock

BYO parties can result in an interesting selection of wine.

By: Kzenon

Many parties have a bring your own alcohol policy.

By: Monkey Business

At potluck dinners, guests often bring both food and alcohol.

By: Minerva Studio

Restaurants that do not have liquor licenses may offer a BYO option to customers and charge a corking fee.

By: Brent Hofacker

Some partygoers bring craft and other beers to events that are designated as BYO ("bring your own").

By: Andres Rodriguez

Some restaurants aren't zone for alcohol, and therefore don't have a liquor license, requiring them to be BYO.