What Foods Work Well with Caramelized Shallots?
Caramelized shallots are shallots that have been simmered over low heat until they're soft, golden brown, and savory yet sweet. They can add richness and depth to many different kinds of dishes, including soups, vegetable medleys, and sauces. Many foods that pair well with caramelized shallots have a slightly acidic or bitter flavor, such as Brussels sprouts. Many cooks also enjoy pairing caramelized shallots with different meat and fish recipes, especially those that have deep and rich, or tangy, flavors.
Shallots are basically small, slightly sweet onions. When raw, they have a very pungent flavor with a sugary undertone. During cooking, these sugars melt and many of the acids are released, creating a much sweeter, more mellow flavor. Two very simple ways to use caramelized shallots are to serve them with roasted or baked chicken, or to spread them over warm garlic bread.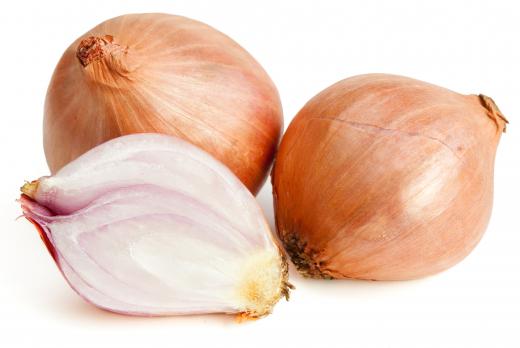 Meat and fish are among the most popular categories of foods paired with caramelized shallots. Garlic-rubbed roast beef, breaded chicken, roasted pork, salmon and oysters typically combine well the sweet, cooked aromatics. The shallots, in turn, enhance the flavors of these foods by underscoring their richness and textures. Cooks may simply serve the shallots alongside these proteins, as above, or create a stir-fry with tender oysters. Mixing the shallots into a roast beef gravy often tastes delicious, especially if the cook processes the shallots and pan juices with an immersion blender to make the gravy silky smooth.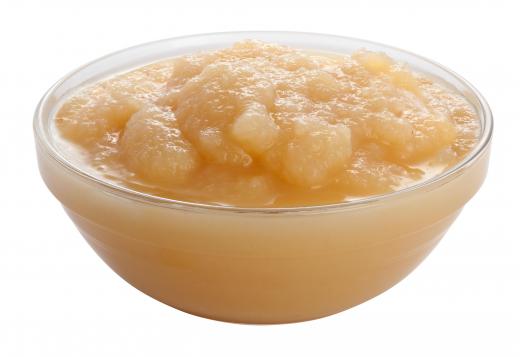 One of the most popular ways to use caramelized shallots with pork is to mix them with apples as well. Cooks may simply peel and chop up any sweet apples they have on hand and add them to some shallots that have already started to turn golden-brown. The cook should add a little apple cider to the pan and stir to help deglaze, or pull the browned bits off of its bottom. As the apples and shallots simmer together over low heat, the apples soften into a warm, savory applesauce, fusing their sweetness with the shallots' earthiness. When finished, this sauce should have a golden, red-brown color.
Those who dislike bitter vegetables might roast them with caramelized shallots to help balance the flavors in a dish. For instance, Brussels sprouts can have a very unpleasant, caustic core. When halved and roasted with caramelized shallots and a little oil, the little onions typically sweeten the sprouts, making for a pleasantly tasty and healthy side dish. The same method can add additional flavor to lighter-tasting vegetables, like lima and green beans. The only rule to preparing such dishes is that the shallots must be slightly browned, or caramelized, before the cook adds any other ingredients.
AS FEATURED ON:
AS FEATURED ON:








Shallots - whole and sliced.

By: rimglow

Applesauce works well with shallots.

By: volff

Many cooks like to combine shallots and apples.

By: xalanx

Caramelized shallots are made by cooking sliced raw shallots over low to medium heat in butter or oil.