Shallots are considered members of the onion family, but are smaller than onions and look more like garlic. Inside, they do not have concentric structures like onions, but are sectioned into cloves like garlic. The white flesh can have either red or purple streaks similar to a red or purple onion. Shallots are strong, rich-tasting and reminiscent of both onions and garlic. They are also sometimes known as eschallots.
Some shallots have coppery brown skin, while others are pinkish or a greyish-brown. The French grey shallot is called a griselle and many French chefs prefer using them in their cuisine because of their strong and delicious flavor. Many of those sold in the United States are imported from France.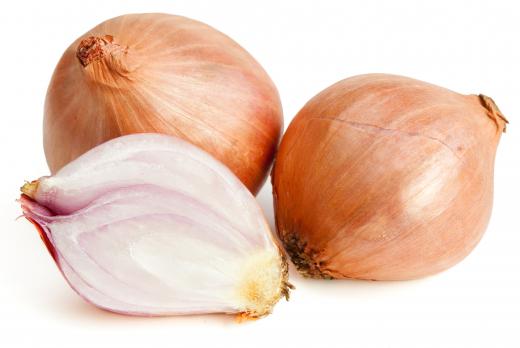 Shallots are native to Israel and regions in the Mediterranean. They were originally called Allium ascalonicum after Ascalon, an ancient city in Israel. However, Europeans changed the name to Allium cepa to fit them in with the rest of the onion family. Shallots were one of the foods that the Crusaders brought from the Middle East back to Europe.
Shallots are used in many of the same dishes where garlic and onions could be used, and do not cause as harsh of breath odors as either onions or garlic. Australians call green onions shallots, but they are not the same as green onions. Shallots are also not the same as pickling onions. Some varieties are more elongated than others, such as the banana shallot. They tend to have a faster cooking time than onions, but they usually do not have as long of a storage life.
Wine and shallots are a popular cooking combination. They can be sauteed or caramelized but, like garlic and onions, can have too much of a strong taste if they become too browned. Some people prefer to roast them while leaving the skins on and then peel and mash them before using. Shallots can be used in cream or butter sauces as well as gravies.
Beef, veal, fish and poultry, including duck, are often cooked with shallots. Some people like to add them to add flavor to potatoes or beets. Popular vegetarian dishes made with this ingredient include those with white beans or lentils. Some of the seasonings commonly used with them are thyme, chervil and tarragon. They are very popular in Asian cuisine as well. Some Thai and Indonesian dishes uses condiments made from shallots, and they are also included in Malaysian stir fry dishes.
AS FEATURED ON:
AS FEATURED ON:








Shallots should be stored at room temperature.

By: Bert Folsom

White beans, which work well with shallots.

By: mates

Some people add shallots to beets to boost flavor.