A bagel slicer is a kitchen tool which is designed to facilitate the slicing of bagels, ensuring that they are evenly and uniformly sliced. Bagel slicers are also used in commercial kitchens to minimize physical contact with bagels, thereby reducing the risk of spreading food borne illness through the handling of food. Many kitchen supply stores have an assortment of bagel slicers on display, and they can also be ordered through specialty companies.
The basic design of a bagel slicer is intended to hold a bagel in place while it is sliced. Since bagels are round, they tend to roll around on the counter, which can be obnoxious during the slicing process, as it makes the bagel difficult to handle and cut evenly. Typically, the bagel fits into a slot or guide for slicing, and in some cases the bagel slicer may have hinges which bring the two sides of the slicer together to pin the bagel in place.
Once a bagel is immobilized in a bagel slicer, it can be cut by sliding a blade through the slot located in the middle of the slicer. Some companies build their blades in, allowing people to use bagel slicers almost like a guillotine, forcing the fixed blade through the bagel to create two equal halves. The halves may slide out naturally, or the bagel slicer can be opened to expose the bagel halves for toasting or other methods of preparation.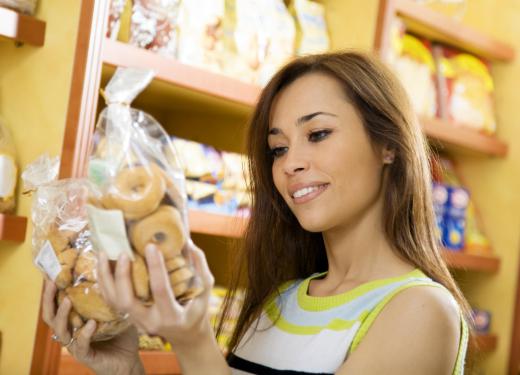 Often, a bagel slicer is built into a bread slicing guide, so that it is more than a unitasking kitchen tool. A bread slicing guide has multiple slots, allowing users to put a loaf of bread in the guide and then cut it into uniform slices, which can be extremely useful for toast and sandwiches. Some bread slicing guides are even attached to a bread keeper, allowing people to store bread conveniently.
When choosing a bagel slicer, remember that more actually is more, in this case. Bagel slicers have to withstand a lot of abuse, especially if you are fond of classic thick bagels. Look for an extremely solid bagel slicer which does not bow or crack when you squeeze it, and check for signs of weakness which could cause it to crack apart or fail. If the bagel slicer has a built-in blade, you may want to see how easy it is to replace the blade, and how thick the blade is, as a thin blade may snap off during the slicing process, which would be rather sad.
AS FEATURED ON:
AS FEATURED ON:








By: Michael Gray

Bagel slicers are designed to slice bagels safely and uniformly.

By: diego cervo

When buying bagels at the supermarket, the deli department will often pre-slice them.