A beer garden is an outdoor area where beer is served. Beer gardens can vary from establishments which are exclusively outdoor to temporary gardens erected to serve attendees of a party. The beer garden tradition appears to have emerged in Bavaria around the 1800s, and it has since spread around the world, with such facilities being especially popular in areas with temperate climates where sitting outdoors with a beer is an enjoyable experience.
Classically, a beer garden is landscaped, and has a garden-like feel in cases where the beer garden isn't a literal garden. The garden usually includes trees and may have shrubs and other plants, along with seating such as benches, chairs, and tables. Some beer gardens have umbrellas for shade, while others do not, and they may include water features or wildlife parks as well. Large gardens can seat thousands of people.
Often, a beer garden offers food as well as beer. The food can vary from full meals to more casual snack foods to catered food, and in some regions, guests are still invited to bring their own food into the beer garden for picnicking. These sites are usually designed for use by people who plan on some extended leisure time to relax with a beer and some food. Music may be played for entertainment, and the clientele may also play games, sing, and engage in other recreational activities which may be encouraged or facilitated by the staff.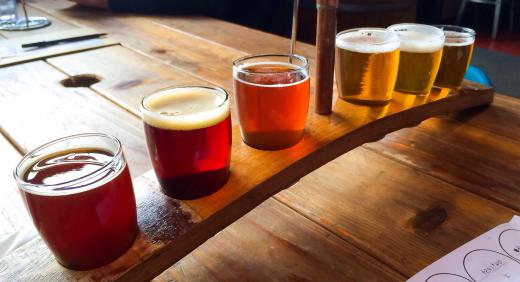 Some taverns, restaurants, and public houses have attached beer gardens, which can vary from true gardens to glorified patios. These sites may have restricted hours of operation, especially during the winter, and it is usually possible to rent them independently of the parent business, for people who want to hold events in the garden. Temporary beer gardens are also created for festivals, state fairs, parties, and other events, allowing people to enjoy the outdoors while they drink beer. Some beer gardens are also historic sites, recognized for their innovative design or age.
Access to beer gardens is often restricted to people who have attained the legal drinking age, because the primary purpose of such facilities is the service of alcohol. In a beer garden where food is served, underage patrons may be permitted, although patrons who are of age may be identified with wrist bands or stamped so that the staff do not serve minors. Non-alcoholic beverage options are typically available for minor guests.
AS FEATURED ON:
AS FEATURED ON:








By: Marius Graf

A stout, a brown ale, and a pale lager.

By: Joshua Rainey

A beer garden typically offers a variety of styles of beer.

By: Minerva Studio

Some taverns and restaurants have beer gardens attached to their properties.

By: Kzenon

Temporary beer gardens can be created for festivals, state fairs and parties.

By: Aleksey Kondratyuk

Beer gardens may feature catered food samples.

By: Ekler

The federal state of Bavaria, which was a kingdom during the Medieval period, is located in southeastern Germany.