A stout beer is a dark, sometimes bitter beer that was first commercially produced in the 1730s. The first versions of this drink were from Ireland, where the still most popular stout is produced by Guinness. Yet Guinness is only one of the many companies that produce and market stouts.
Stout beer is composed of barley and varied types of malt. Other variants may be made using oatmeal, which usually produces a sweeter beer. There is a large variety in the kind of beers produced this way, and several classifications differentiate one type from another.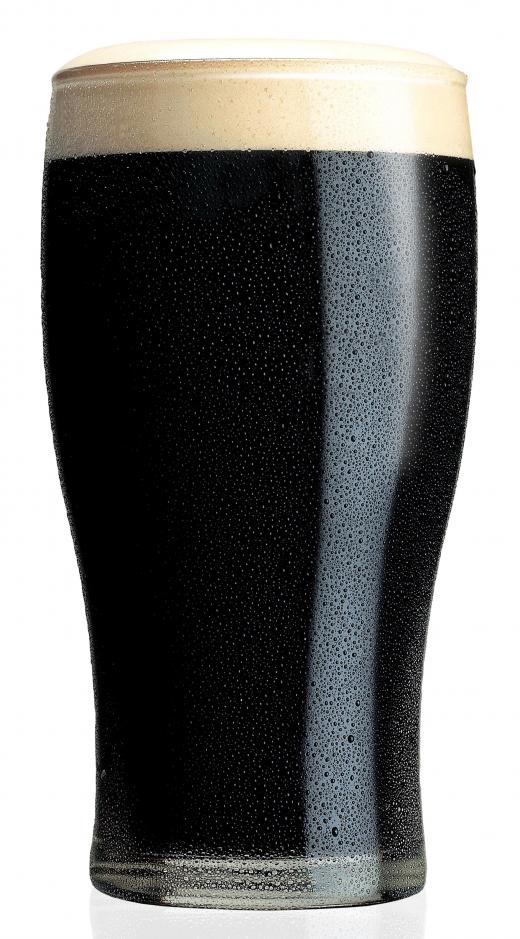 Irish stout is the most well known types of this beer, with Guinness being its primary manufacturer. This type of drink is also called a dry stout. Though Guinness is very popular worldwide, many prefer Murphy's, particularly in Ireland, because Catholics initially ran the company. Guinness was thought of as a Protestant beer.
Imperial stout beer was first made for Catherine the Great, who had a tremendous liking for dark beers. Importation to Russia, however, often ruined the beer. As such, Imperial beer was given a much higher alcohol content to make shipping the product simpler. Storm King's Imperial Stout is one of the more well known of this type.
Sweet Cream, sweet, or milk stout has an addition of lactose during the brewing process. The result is a much sweeter beer than its more bitter companions. Those who don't care for dry stouts may prefer Mother's Milk brewed in New York, or Snowplow from two breweries in Oregon.
Oatmeal stout beer is usually the sweetest of these veers. It is far sweeter than the milk stout because the addition of oatmeal tends to mellow the final results. A couple of popular brands are Samuel Smith's and St. Ambroise Oatmeal stout, made in England and Canada, respectively.
Coffee stout beer is tends to be darker and more bitter than dry stout. Some brands actually add coffee, but this is considered a non-traditional ingredient. Washington's Pike Brewery produces one of the more traditional coffee stouts. This drink is related as well to the chocolate stout, which actually uses a chocolate malt. The result is sweet and dark, and may be the perfect combination of rich flavors.
AS FEATURED ON:
AS FEATURED ON:








By: zaphod2008

Stout beer is a dark beer.

By: adimas

Sweet cream is added to add lactose to stout beer.

Hops, which are used to make beer.

By: Ahileos

Tanks for fermenting beer.

By: 1999istek

Barley, which is used to make stout beer.

By: Marius Graf

A stout, a brown ale, and a pale lager.

By: Kevin McManus

Guinness beer was brewed in the beginning of the 18th century.

By: amenic181

Coffee may be added to certain types of stout beer.

By: Georgios Kollidas

Imperial stout beer was first made for Catherine the Great of Russia.