A cakery is a bakery that specializes in cake design. Some may be casual cafes that offer cakes by the slice, cupcakes, and other treats alongside drinks or other foods, while others may be specialty stores that create customized cakes for special events. Visiting a cakery can be a fun activity, whether stopping for a delectable snack or choosing designs and flavors for a special cake.
Creating a truly dazzling cake takes design skill, artistry, and considerable baking abilities. Many cakeries custom design cakes for clients, taking into account budget, personal taste, and the purpose of the cake. For a bakery to deem itself a cakery, the ability to produce fabulous cakes must be the first priority of the business. Working as a specialty cake designer or baker can be a lucrative job, but is often fueled by a love of baking and art rather than a drive to make money.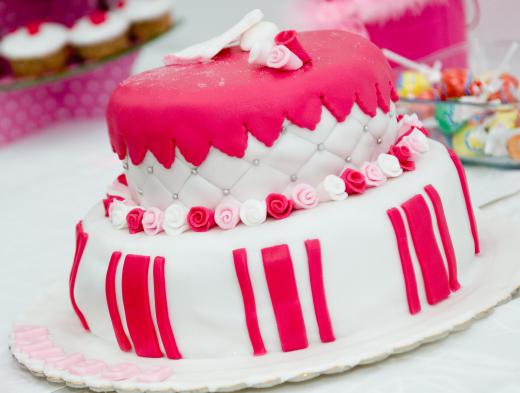 Within the world of specialty cake designs, each cakery may have its own unique abilities to suit different clients. Some cake shops make a reputation on the ability to create highly realistic cakes that depict people, animals, or landscapes. Others may attract customers by advertising cakes that are highly artistic, or can be made in nearly any shape or size. While one cakery may rely on its ability to make traditional, elegant and formal cakes, another may prefer to focus on whimsical and colorful designs that seem to defy gravity or the imagination.
Choosing a cakery to design a special dessert often begins with examining samples of past designs. Most bakeries that have a cake design focus will have portfolios of previous designs, as well as awards or testimonials from happy customers. Since a cake should taste good as well as look good, cakeries will often offer a cake tasting to show their baking ability as well as their artistic capability. Clients will typically have at least one consultation with the designer or baker, and can provide photos, ideas, and an explanation of what kind of cake is needed.
Custom designed cakes from a cakery can be quite expensive, as each cake can take hours and even days to fully design, bake and assemble. It is important to inquire about price before ordering, to avoid any surprises. In most areas, a cakery must also comply with local health laws and regulations regarding food preparation. Many cakeries will have this information on file for inspection, or clients can obtain it through local authorities as needed.
AS FEATURED ON:
AS FEATURED ON:








By: Michalis Palis

A cakery specializes in decorative cakes.

A cakery may specialize in cupcakes.

By: SOMATUSCANI

Some cakeries offer seating so patrons can drink coffee and enjoy their desserts.