Eclairs are pastries made from choux paste, the same traditional pastry dough used for cream puffs. They are usually piped into logs about three to four inches (7.62-10.16cm) long, and baked. Once baked and cooled, eclairs can be filled with whipped cream, a variety of custards, mousses, or fruit. Traditional eclairs tend to be filled with whipped cream or custard and topped with chocolate ganache.
French chefs are credited with the invention of eclairs, over 300 years ago. Choux pastry is typically French, although it was soon adopted by British countries, and quickly spread to other European countries. There are New World Recipes for choux dating back to the early 18th century. Choux is essentially a combination of eggs, water, butter and flour, which is mixed over low heat to melt the butter. Eggs needed to be added carefully so as not to make scrambled eggs in the process.
Choux dropped from spoons can make delightful shells for cream puffs or for savory fillings like chicken salad. Usually the shape of eclairs requires piping the dough to achieve the long shape. Eclairs can also be filled with savory ingredients, and might make perfect appetizers.
Some cooks fill eclairs by slicing them lengthwise and removing a portion of the inside of the pastry. This gives more room for the filling. Others make a small hole in one side of the eclair and simply pipe the filling into the eclair. Preference for either method varies.
Some American recipes do not rely on the typical choux paste for eclair type cakes. These may be referred to as eclair cakes instead of eclair pastries, since they are typically made from cake batter. It's actually quite common to see doughnuts that greatly resemble eclairs, though they will taste quite different given the sweeter batter and the cakey texture. As well, doughnuts resembling eclairs may be greasy because their cooking process involves frying as opposed to baking.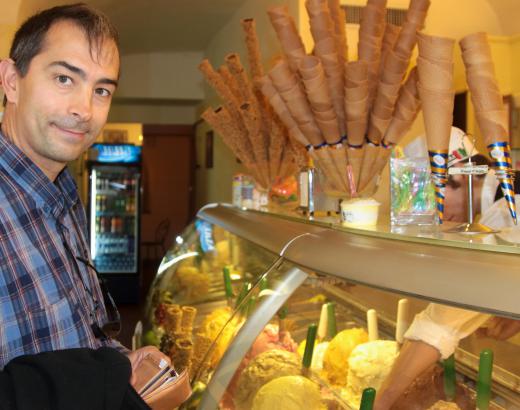 If making eclairs daunts you, it is quite easy to obtain them at most bakeries. One may want to use a European styled bakery to be certain to get the choux paste traditional eclairs. As well, one can consult with the bakery regarding different fillings, though most people are quite happy with the standard chocolate eclair. Since eclairs usually contain either custards or cream-based fillings, don't forget to refrigerate these dainty pastries until just prior to serving
AS FEATURED ON:
AS FEATURED ON:








By: Luisa Contreras

Traditionally, eclairs are topped with chocolate ganache.

By: David Smith

Chocolate eclairs may be filled with vanilla pastry cream.

By: Eléonore H

European-style bakeries tend to offer the choux paste traditional eclairs.