What is a Chocolate Fountain?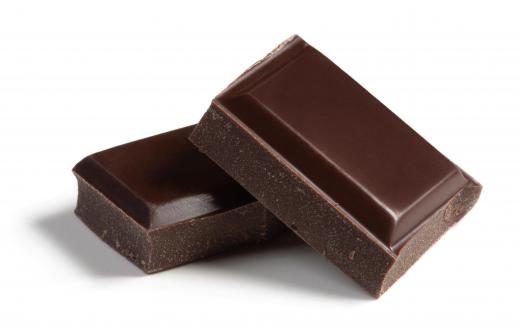 A chocolate fountain may sound like something straight out of Willy Wonka, but those who have attended wedding receptions or other catered affairs may have already encountered one. A traditional chocolate fountain combines the chocolate-warming properties of a fondue pot and the cascading effect of a champagne fountain. Constructed of stainless steel, a chocolate fountain is usually rented out for special occasions by party supply shops or professional catering services. Guests are usually offered a variety of bite-sized fruits, marshmallows, cheesecakes and other treats suitable for chocolate fondue.
The chocolate used in a chocolate fountain must have a high cocoa butter content for best results. The variety of choice is usually a Belgian-style chocolate called couverture, also used to form the outer shell of pralines. Other chocolates can be used in a chocolate fountain, but additional oil may have to be incorporated to create a proper flow. Prepared chocolate morsels are placed in a warming pot located in the base of the chocolate fountain. Once they have melted completely, a vertical auger draws the heated chocolate to the top of the fountain. Electrical pumps used for drawing liquids to the top of a champagne fountain would not work well in a chocolate fountain.
As the chocolate begins to flow over the cone-shaped top, it may pool in a small tray and then overflow in a sheet to the next tray. Once the chocolate reaches the bottom, it is reheated and drawn back up to the top. Guests skewer their preferred treats on toothpicks and carefully hold them in the chocolate fountain. Quite often a professional caterer will designate an assistant to monitor the chocolate fountain to ensure a proper flow and to prevent abuse by younger guests.
Catering companies may charge party planners an hourly rate for the use of a chocolate fountain. This price should include the wages of the attendant and the amount of chocolate used. For this reason, many hosts will opt to use a chocolate fountain only during the appetizer or dessert hours. In general, a chocolate fountain may only operate for two hours at most. Outdoor use is strongly discouraged, since insects and animals are often attracted to the fragrance of chocolate.
Home versions of a chocolate fountain have become very popular in recent years. These models are generally much smaller than their commercial counterparts, but they perform well for small gatherings. The special chocolate mixture required for a chocolate fountain can be ordered online or through wedding supply shops or specialty candy stores.


By: Andris T

Dark chocolate can be used in a chocolate fountain.

By: svl861

A high percentage of cocoa butter is needed for a chocolate fountain.