What are Some Different Types of Dips?
Dips can make raw fruits and vegetables as well as crackers and chips more flavorful and fun to eat. They also add a party feeling to food and are popular at cocktail parties and other events. Clam dip, salsa, guacamole, hummus, bean dip, cheese, onion dip, and dips for fruit are just some of the many different types of dips.
Dips for fruit are often sweeter than those for vegetables and crackers. They're usually made by blending sweet cream cheese with marshmallow creme and/or whipped cream. Vanilla may be added for extra flavor. Fruits such as fresh pineapple, peaches, and strawberries tend to be especially good with these dips.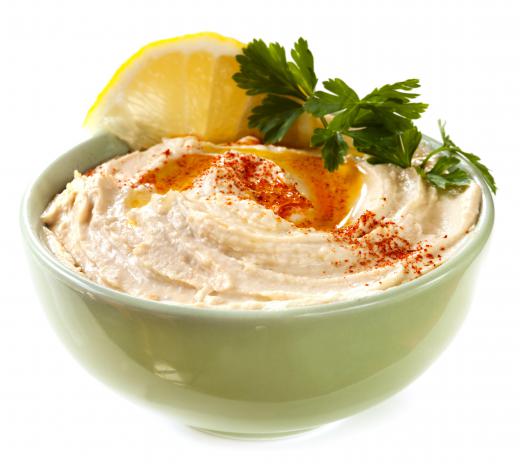 French onion dip is a classic favorite, especially with potato chips, and herbs or garlic can be added as well for extra flavor. Cheese dips can be cream cheese-based or feature cheeses like cheddar, and they can be served with pretzels, apples, crackers, or many other finger foods. A fancy dip, like Brie dip with pecans, could be served at a cocktail party.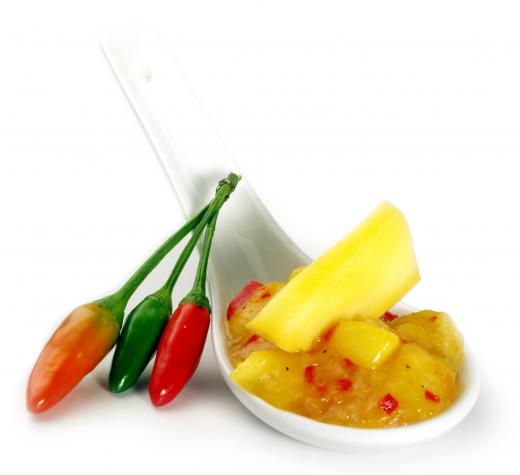 Bean dips can be very hearty and full of flavor depending on the seasonings added. Hummus is simple to make with canned garbanzo beans for extra convenience, or it can be purchased pre-made. Individuals can also make other types of bean dips with black beans and Mexican seasonings.
Dips made with vegetables include salsa and guacamole. Both are usually served with tortilla chips, and they're often served before Mexican dinners as appetizers.
Fondues can also be considered types of dips since diners dip pieces of food on small forks into a sauce. Cheese fondues are god with bread cubes and vegetables, such as cauliflower or cherry tomatoes. Cake cubes and fruits, such as strawberries and chunks of banana, are often good choices for chocolate fondues. If cake is used, it should be dense enough so that it doesn't leave too many crumbs in the chocolate dip.
AS FEATURED ON:
AS FEATURED ON:








Bowl of hummus drizzled with olive oil and sprinkled with paprika.

Mango chutney.

By: ExQuisine

Cauliflower is good dipped in cheese fondu dip.

By: Lorraine Kourafas

Salsa is one type of dip.

By: michelaubryphoto

Pretzels are a favorite to dip in cheese.

By: Stuart Monk

Guacamole is a type of dip.

By: dreambigphotos

Spinach dip can be served as an appetizer or hors dóeuvre.

By: Glamshot

Fondues can be considered a type of dip.

By: nataliazakharova

Potato chips are a popular item to go along with dips at a party.

By: cobraphoto

Clam dip can be a great option for those who enjoy seafood.

By: Dessie

Salsa is a common dip for tortilla chips.