A churrascaria is a type of Brazilian steakhouse popular for its unique buffet serving method. The style, known as rodizio, involves waiters bringing large cut of roasted meats to diners' tables and carving out portions by request. Many establishments have signals on each table diners can use to request service. Although grilled goods are the restaurants' defining feature, most churrascarias have separate buffet tables offering appetizers and desserts.
Churrascarias take their name from the Portuguese churrasco; loosely translated to English as "barbecue." A more accurate definition for the word can be taken from the Spanish churrascar, or "scorch," which can be used to describe the cooking methods of these establishments. The meat is cooked over a charcoal or wood-fired grill until the meat is roughly medium rare or medium well. The meat is then placed on a display skewer to be carried around by the passadores, or waiters.
Most restaurants offer a wide selection of meat and cuts, including steaks and sausages. Common cuts of beef include filet mignon, prime sirloin, and short ribs; a variety of cuts for chicken and pork are usually also available. Diners can also request that the servers prepare cuts with certain levels of doneness, whether it be very rare or well-done. A churrascaria restaurant aiming for authenticity might also offer guides on ordering cuts in Portuguese.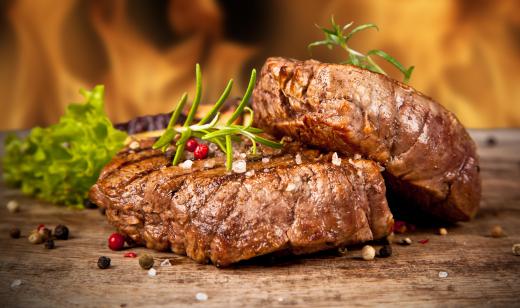 Churrascaria waiters often rely on signals present at tables for their serving behavior. A number of restaurants, for example, feature red and green signs on each table. The passadores then interpret the signs as requests for service — a visible green sign indicates diners asking for more meat at their table, while a red sign means the diners don't require any service at the moment. Each table gets visited by a rotating team of waiters, with each waiter bringing a different type and cut of meat to the table. Diners can also inform servers about their preferences, which are then relayed to the kitchen for accommodation.
Items on a churrascaria buffet table serve multiple purposes: to whet the appetite, to cap the meal, and to allow diners some variety outside of the grilled food. The third purpose is particularly important given the fact that some people might feel nauseated after consuming large amounts of meat. In most establishments, all items are covered by a single fixed price per diner, although some restaurants might charge separately for beverages. In addition, some churrascaria restaurants might offer discounts for young and elderly diners, offering better value for the customers' money.
AS FEATURED ON:
AS FEATURED ON:








By: Boggy

Churrascarias are popular for their unique buffet-style serving method.

By: Jag_cz

Churrascarias usually have a wide selection of beef cuts, including steaks.

By: Minerva Studio

A churrascaria may serve red wine to complement the various cuts of steak.

By: Kirill Kedrinski

Some churrascaria restaurants offer discounts for young and elderly diners.