A dariole can refer to several culinary treats, or to a special mold called a dariole mold used to make darioles of different types. The term dariole is from the old French verb dorer. This translates to "cover in gold," suggesting the initial use of the term. The original dariole likely referred to a pastry, probably a puff pastry type baked in the form of a cup, so that the exterior was golden. The cup made of pastry likely predates the molds that made cooking these little treats so much easier.
If you go to a bakery in France, you may find sweet darioles, which are made of puff pastry baked in a dariole mold, and then filled with custard or almond cream. Other pastry creams may be used instead, and there are a variety of savory kinds too. The sweeter variety may also be sold under various names; cream horns is a popular alternative name in English speaking countries. Other common uses for these molds include substituting them in place of ramekins to bake castle pudding, or using them to make individual rum babas.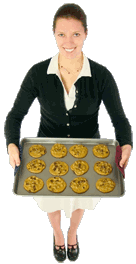 There are plenty of variants on the dariole which aren't sweet and don't have an exterior pastry crust. Timbales, various egg custards flavored with herbs, cheese, or onions, can be baked in molds and then turned out for impressive little treats. You can even make quiche darioles. Other sweet desserts that may be called darioles include cakes, where cake batter is merely baked in the molds, and various puddings like Italian cream or flan. Alternately, the molds can be use in the fridge or freezer to set mousses or even jam.
One classic French use of the molds is to make Dariole de Pommes de Terre aux Légume which creates individual and attractively cylindrical mounds of mashed potatoes. Essentially if you don't have these molds, you can substitute ramekins, or vice versa. The dariole mold will give you a slightly taller and narrower shape than will a ramekin. Some cooks prefer one to the other, and both molds are similar in price.
AS FEATURED ON:
AS FEATURED ON:








Woman baking cookies