Marzipan is an almond and sugar paste that is used to ice cakes and other pastries or sculpted into a variety of shapes to be eaten as candy or used as cake decorations. It is simply a mixture of almond paste, powdered sugar, and a moistening agent such as water, corn syrup, glucose, fondant, or egg whites. After the ingredients are mixed, the paste reaches a consistency of dough or soft rubber and can be rolled, shaped, cut, or molded.
Because marzipan is both delicious to eat on its own and simple to make, it is often used both as the icing for cakes and as decoration. When used to ice a cake, it is rolled into a thin sheet and draped over the cake, usually with a fruit glaze applied between the cake and marzipan so that the icing sticks more securely. Once draped over the cake, the sides of the sheet are carefully smoothed down so that the icing is uniform and free of bubbles or wrinkles.
Marzipan is used to decorate cakes in other ways as well. Its soft, pliable texture allows a decorator to shape it into three dimensional shapes such as flowers, fruits, people, or animals. The marzipan can be colored with food dye or air brushed, and with the right techniques, a skilled artist can make very realistic shapes. Using cookie cutters or a sharp knife, it can be cut into shapes, letters and numbers, which are then attached to the sides or top of a cake. These decorations add color, flavor, and texture to what might otherwise be a plain cake.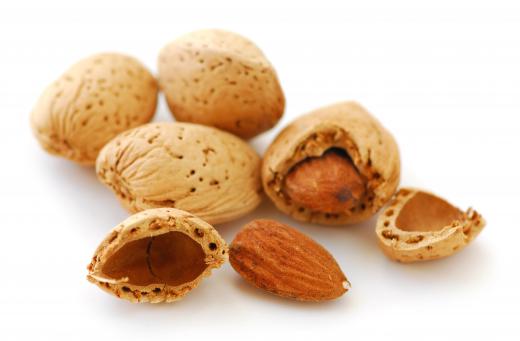 Besides its role in cake icing and decorating, marzipan is popular as a candy. Its sweet, nutty taste, all natural ingredients, and the often whimsical shapes it can take make it a favorite among both children and adults. This candy can be a simple block of sweet almond paste, but is also found covered with granulated sugar, dipped in chocolate, or flavored. It is sold in bite-sized pieces or larger blocks, as well as in the shape of fruits, animals, and special holiday shapes like Santa Claus or jack-o-lanterns.
Marzipan can be purchased pre-made in many baking shops and candy or grocery stores. Cooks can also buy almond paste to make their own by mixing equal parts of the paste with powdered sugar, and then slowly working in a small amount of corn syrup until the mixture has a soft, slightly dry, dough-like consistency. With their own marzipan, some food coloring, a clean work surface, and some spare powdered sugar in case the paste gets too sticky to work with, cooks can make their own candy in whatever shapes they can imagine.
AS FEATURED ON:
AS FEATURED ON:








Cupcake decorated with marzipan, a type of almond paste.

By: Elenathewise

Marzipan is made from ground almonds and sugar.

By: Natika

Marzipan can be dipped in melted chocolate.

By: WimL

Marzipan is a paste made of almonds and sugar.