What is a Freestanding Oven?
A freestanding oven is a cooking device in which the baking area is integrated into the stove that has feet and sides. This is in contrast to a built-in oven, which must be inserted into a cabinet wall or into a countertop. A free standing oven may be a home oven or a professional freestanding oven in a restaurant. Free standing ovens can have many accessories as well, such as warming trays, convection functions and meat probes.
Typically a freestanding oven is cheaper than other types of ovens. It can be identified because the oven controls are typically found behind the burners in a backsplash that is 4 to 6 inches (about 10 to 15 cm) high. A freestanding oven is less slick looking because of the bulky backsplash, but it is less difficult for children to reach the controls. The oven door is at floor level, which is less convenient than waist-high built-in wall oven doors.
More expensive choices might include slide-in and drop-in ovens. They have the same overall layout as a freestanding oven with stove top. They also fit into a countertop, but they leave a much smaller footprint since they are integrated into cabinets and countertops. They can also be integrated into a kitchen island or peninsula since they do not have the backsplash sticking up. A freestanding oven has the advantage of being insulated against heat and can safely be located next to a wall or other flammable material.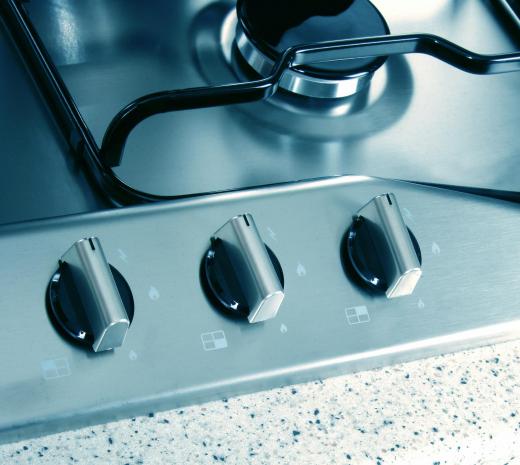 Freestanding ovens are the most popular choice amongst culinary professionals since they come in a variety of widths. Six to eight burners are common in a professional freestanding oven with a range. They may also have two ovens, one that is gas and one that is electric. Vary large commercial freestanding ranges are called "pianos" and can be very expensive.
Personal freestanding ovens also come in a variety of sizes and styles. The most common colors are white, black and stainless steel, but other colors can be custom ordered for many brands and models. Freestanding oven stove tops typically have four to six burners and may have gas, electric or induction tops. The ovens may be gas or electric, and they may use traditional heating or use convection.
For amateur chefs, many accessories are available for freestanding ovens. For example, griddles, grills and deep fryers may be integrated into the unit. Child lock modes and Sabbath modes also are common features. A freestanding downdraft oven is a good solution for removing cooking odors if the oven is located where a typical range hood is not practical.
AS FEATURED ON:
AS FEATURED ON:








By: Lucky Dragon

Induction tops are becoming more common on freestanding ovens.

By: jokerpro

Gas burners are a common feature among freestanding stoves.

By: ArenaCreative

Freestanding oven stove tops usually have four to six burners.