A fry up is an informal British term that refers to a dish made up of different fried foods, usually based on eggs or meats. It's also known as an English breakfast, although fry ups may be eaten at any time of day. Geographical variations include the Irish, Scottish and Welsh breakfasts. The ingredients can vary, depending on what the cook has available, but mushrooms, tomatoes, eggs, bacon, sausage and black pudding are common and classic additions. Other foods, such as baked beans, may be added as well.
Black pudding is a sausage made from pig's blood, bread, fat, and seasonings. Other types of sausage are also commonly eaten in fry ups. Organ meats, such as lamb's liver and beef kidneys, may be added. The idea is to fry meat pieces for flavor and to use them while they're still fresh. Bacon is a staple ingredient.
Bacon in the United Kingdom differs greatly from its American counterpart. While bacon processed in the US comes from the belly of a pig and is very fatty, bacon in the UK is prepared from the back or loin and is much leaner and meatier. American bacon is known as streaky bacon in the UK and wide slices of British bacon are sold as rashers. Irish bacon is thinly cut with a rind of fat. Many people consider UK bacon superior in taste, yet American bacon more appealing in aroma during cooking.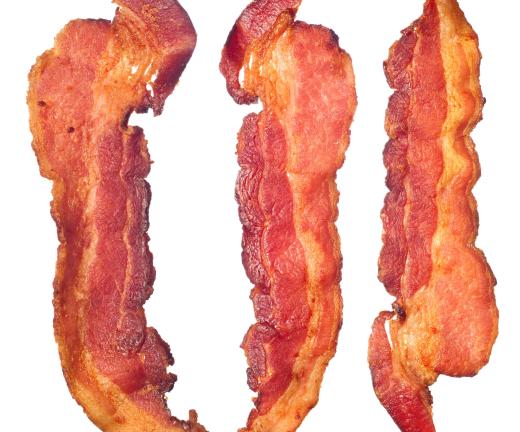 Traditional Irish fry ups feature Irish bacon as well as soda or potato farls, which are thin, triangular flat bread. A Scottish fry up may include UK bacon while also featuring square Lorne sausage. This pork and/or beef sausage is square-shaped and served in slices. Lorne sausage is also commonly eaten in bread rolls as sandwiches.
A Welsh breakfast is likely to contain seafood or seaweed, and a traditional full breakfast includes fried seaweed and oatmeal patties called laverbread. Laver is rock-clinging seaweed found in some coastal areas in the UK and is especially associated with the Pembrokeshire Coast in South West Wales.
Eggs used for a fry up should usually be cooked sunny side up, or with the egg yolks heated yet still yellow and liquid. Mushrooms and tomatoes are the standard vegetables added to the meat. Toasted bread spread with marmalade, a citrus fruit preserve, is a favorite accompaniment. Hot tea is served with morning fry ups, while stout, or dark beer, may accompany one eaten as an evening meal. Tomato ketchup or Houses of Parliament (HP) sauce, a brown, fruity, spicy malt-vinegar based condiment, often tops the dish.
AS FEATURED ON:
AS FEATURED ON:








By: vichie81

A typical fry up, also known as an English Breakfast.

By: Kelpfish

Bacon is a common ingredient in a fry up.

Blood sausage, which is sometimes included in a fry up.

By: Elenathewise

A fry up typically includes some form of eggs.

By: mbongo

Mushrooms are often included as part of a fry up.

By: zaphod2008

Stout is commonly served with an evening fry up.