What is a Welsh Breakfast?
A Welsh breakfast is a cooked breakfast which includes traditional Welsh dishes and Welsh ingredients. In Wales, many inns have started promoting this meal to remind visitors that they are, in fact, in Wales, and these inns pride themselves on using local ingredients, with a focus on organic and environmentally sound ingredients in many locations as well.
The components of a Welsh breakfast vary, and are a topic of debate. Some common features are bacon, sausages, cockles, laverbread, black pudding, oatmeal, eggs, fried mushrooms, tomatoes, and smoked fish. It is also possible to see some cold ingredients, like fresh fruit and cereals, although these may not always be of Welsh origin. In any case, the meal is meant to be bracing and filling, preparing the consumer for a day of hard work in the often difficult Welsh climate.
The bacon and sausages for this type of breakfast are ideally made in Wales, with traditionally Welsh ingredients. The Welsh tend to like their bacon thick, and it may also be heavily marbled with fat, depending on what part of the pig it comes from. Cockles are small shellfish which are harvested from the rocky coastline of Wales; Penclawdd cockles are said to be particularly fine.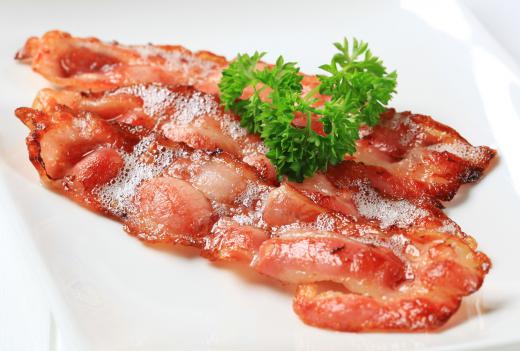 Laverbread is a food product made from laver, a type of seaweed. The Welsh people have used this seaweed as a food ingredient for centuries, and there are a variety of ways to include it in a Welsh breakfast; traditionally, the seaweed is cooked into a jelly, which may be rolled in oats and fried or baked to create a small block of highly nutritious food; it is typically served with a wedge of lemon.
Black pudding or blood pudding is an arguable inclusion, because it is an English food. It is a type of sausage which is made with blood, turning the sausage very dark and rich, and it may be fried or boiled, depending on one's taste. The other ingredients in a Welsh breakfast have been eaten in Wales for varying amounts of time, but they have all come to be associated with a traditional breakfast.
You can expect many of the items above at an inn which advertises a full Welsh breakfast. Typically tea is served as well, along with toast, and sometimes it is possible to find breakfast pastries as well, depending on how authentic the cook is feeling. The breakfast is also served with local Welsh cream, milk, and butter.
AS FEATURED ON:
AS FEATURED ON:








By: sas

Many inns in Wales serve a Welsh breakfast with local ingredients.

By: Viktor

Bacon is commonly featured in Welsh breakfasts.

Bowl of cooked oatmeal.

Blood sausage, which is often included in a Welsh breakfast.

By: mbongo

Fried mushrooms are typically included in a Welsh breakfast.