A gordita is a flat bread made from corn flour, originally from Mexico. They are relatively thick, usually about the size of a hand, and can be split open and filled with various fillings, from cheese to beans to meat or stews, or a combination thereof, usually with a chili tang. Gordita means "little fat one" in Spanish and is often used as a term of endearment.
As with any regional cuisine, the size, method of making and cooking techniques of the gordita differ from region to region in Mexico. The flour usually used is masa harina, which is made from corn and has a distinctive flavor due to the method used to make it. The corn is dried, then cooked in water with slaked lime, then dried again and ground up into very fine powder which mixes easily with water.
There are various recipes for making the gordita, but they all include masa harina and water. Some people add baking powder, others put garlic powder or cheese in for taste. The gordita is first browned on a hot griddle and then deep-fried, giving it a soft center and crispy outside. They are relatively thick, almost like a fat corn tortilla, which allows for them to be split like a pita bread and filled.
The filling used differs from region to region in Mexico. Slivers of meat, chili con carne or vegetarian options of refried beans may all be put in the gordita. As is tradition in Mexico, chili is one of the main constituents of whichever filling is used. Salad or vegetables are often added and salsa or guacamole.
Gorditas are commonly served as street food or fast food in Mexico and their popularity has spread throughout the world. While Mexican fast food chains throughout the world serve Tex-Mex cuisine, a combination of Texan and Mexican dishes, traditional Mexican fare is quite different, and is diverse through the different regions of Mexico. Tortillas, made from maize or flour, and gorditas are a staple throughout Mexico.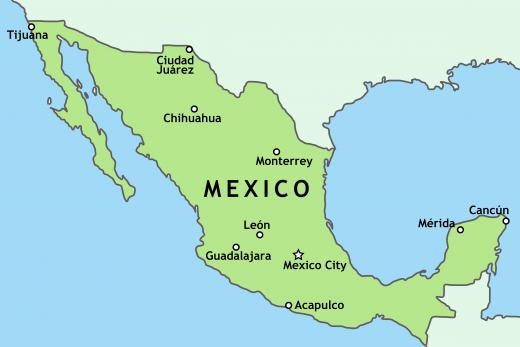 Mexican food is known for its spicy tastiness. Two main sauces are used – salsa and guacamole – although the list of spicy additions is endless. Salsa is a mix of tomato, onion and chili while guacamole is mashed avocado pear with onion, chili and cilantro or celery. Often, especially with the more Tex-Mex version of Mexican food, it is served with sour cream.
AS FEATURED ON:
AS FEATURED ON:








A bowl of sour cream, which is often used to top gorditas.

By: Brad Pict

Guacamole is a popular filling for a gordita.

By: Tupungato

Traditional Mexican fare is diverse throughout the different regions of Mexico.

By: Igor Dutina

The filling for gorditas usually includes chili powder, garlic, and other spices commonly used in Mexican cooking.