Guacamole is a thick, avocado-based dip typically served with tortilla chips. Much like any traditional dish, it boasts an infinite number of recipes, with ingredients depending on the cultural surroundings and taste preferences of the chef. The most basic recipe, however, includes mashed avocado, chopped tomato, onion, cilantro, lime, and chilies, and is seasoned with salt, cumin, and pepper. In restaurants, it's often served in a mocahete, or a rough stone mortar and pestle commonly found in Mexican households.
The origin of the name lies in the Aztec word ahuacatl, which the Spanish conquistadors transliterated as aguacate, and in the Mexican word mole, which means sauce. The dish itself is best traced back to the Aztec ahuaca-hulli, or avocado sauce. While countless Central American cultures show evidence of having used the avocado for culinary purposes before its widespread cultivation, only the Aztecs have a specific recipe for something which approximates guacamole.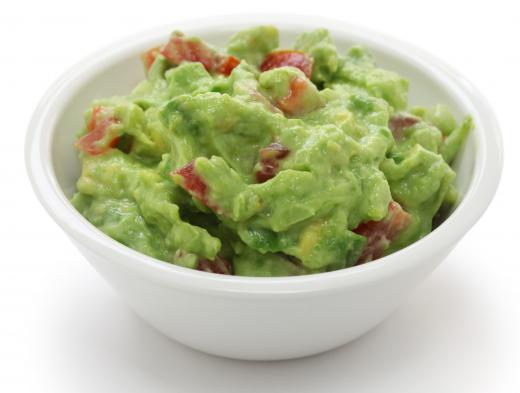 The avocado itself, which is integral to the dip, has an interesting history. Ahuacatl, its Aztec name, literally translates to "testicle tree," and was named as such for the fruit's resemblance to male anatomy. Women in Aztec villages were not permitted to leave the house during the avocado harvest, for fear of sexual impurity, and this stigma continued for centuries. In the 1920s, avocado growers even used it to their advantage for a promotional advertising campaign.
In addition to being a possible aphrodisiac — and scientists have neither denied nor confirmed the validity of this claim — guacamole has several nutritional benefits. Avocados contain more potassium than bananas, are high in vitamin A, and are the richest fruit source of beta-sitosterol, a compound that interferes with cholesterol absorption, as well as glutathione, which functions as an antioxidant. When prepared, it contains additional antioxidants and vitamin C from tomatoes. Still, the dip is best eaten in moderation because of its relatively high fat content: approximately 4.5 grams of fat per ounce (28.3 g).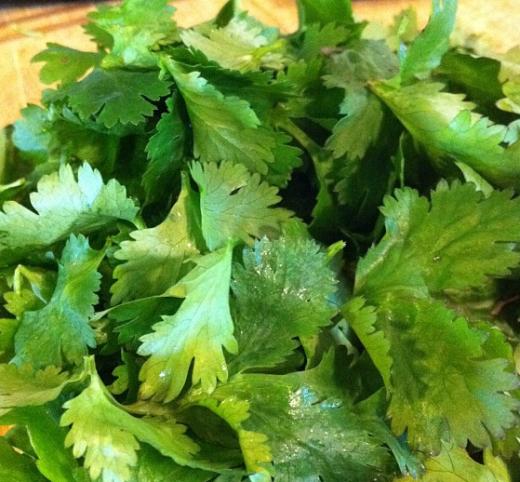 When choosing avocados for guacamole, cooks should try to find California-grown Hass or Fuerte varieties. Californian avocados have higher fat content and are therefore richer than those grown in Florida, and Hass and Fuerte have the most traditional taste and texture. Ripe avocados should yield to gentle pressure, but should not have "valleys," which are a sign of rotting. Ripe Hass avocados are very dark green to black, while Fuerte generally do not pass the dark green stage.
AS FEATURED ON:
AS FEATURED ON:








By: uckyo

Guacamole is used as a dip, topping, or side dish.

By: oriori

Avocado is the essential ingredient in guacamole.

By: Amber DeGrace

Guacamole is often flavored with cilantro.

By: marylooo

Ground cumin, which is used to flavor guacamole.

By: Hyrma

Onions, which are used in making guacamole.

By: martinlee

Guacamole typically includes chopped tomatoes.

By: Paweł Mruk

Limes are a basic ingredient used in making guacamole.

By: JJAVA

Some cooks mix salsa into their guacamole to make a spicy, robust dip.