Depending on which region of the United States a person visits, he may find himself ordering an overstuffed sandwich called a grinder, hero, submarine, torpedo, or simply a sub sandwich. In the Pennsylvania/New York area, that sandwich would most likely be called a hoagie, although the word grinder can still be used somewhat interchangeably. Whatever it's called, it's an over-sized cold cut and cheese sandwich, usually served on a long custom-baked bun reminiscent of a French bread baguette.
There are several different meat-and-cheese combinations generally offered in a hoagie shop, but the two most common types are American and Italian-style. An American-style sandwich often contains common luncheon meats such as bologna, ham, and salami. The Italian-style version usually omits the bologna and includes a spicier Capicola ham along with salami and a mild white cheese. Some sandwich makers scoop out a portion of the bun to accommodate all of the meats, cheese, and condiments. The removed bread may be placed back on the plate, along with the ends of the sliced roll.
A distinctive feature of the traditional hoagie is an abundance of condiments. Mounds of freshly-shredded lettuce may be added, along with thin slivers of onions, bell peppers, Greek banana peppers, and tomatoes. A sandwich is often dressed with a generous drizzle of oil and vinegar or an oil-based Italian sandwich dressing. A traditional sub is usually served cold, wrapped tightly in butcher paper for easier carrying.
There are several theories surrounding the origin of the hoagie, all of which center around Philadelphia during the late 19th century. One theory suggests that sandwich makers in Philadelphia created an overstuffed and portable sandwich that became very popular with men who worked at Hog Island, a large shipyard near Philadelphia. These large sandwiches were called "hoggies," both for their size and their association with Hog Island workers. Eventually, the largely immigrant population would corrupt the name into "hoagies."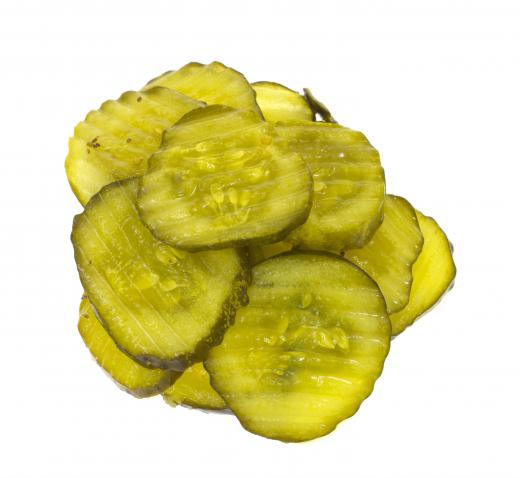 Another theory also has its roots in Philadelphia's substantial immigrant population. During the late 19th and early 20th centuries, there were street vendors who offered a wide range of consumables, from ice cream to vegetables to sandwiches. These vendors became known as "hokey-pokey men," and their goods were often called "hokeys." As the popularity of the sandwiches grew, name shifted to what it's known as now.
Whatever the true story of the sandwich's origin may be, it remains popular all across the United States. Many sandwich shops now use the name interchangeably with submarine or hero, although some purists might argue that a true hoagie is always served cold. The custom-baked bread may still be warm from the oven, but the meat and condiments should remain cool.
The popularity of hoagies produced in local sandwich shops in the Pennsylvania and New York area can lead to the formation of huge lines around the buildings. Traditional shops often contract with a local bakery to provide the unique bread for their sandwiches, and once that supply is exhausted, the day is over for store owners and customers alike.
AS FEATURED ON:
AS FEATURED ON:








By: stocksolutions

A hoagie, which can also be called a "sub" or "hero" sandwich, includes meat and other toppings.

By: Mara Zemgaliete

Salami is often used to make a hoagie.

By: Louella Folsom

Pickles are just one of the topping options for hoagies.

By: ksena32

Italian style hoagies often omit bologna, but American style sandwiches often include it.