The club sandwich is a tremendously popular sandwich that has been made since the late 19th century. The first recipe for it appears in 1903, in Isabel Gordon's Good Housekeeping Everyday Cookbook. Many believe an exclusive men's club in New York, the Saratoga Club, which featured a casino, may have invented the sandwich. Three restaurants at the St. Louis World Fair of 1904 featured a club sandwich in various forms.
The Good Housekeeping recipe is not a double-decker sandwich, which is a traditional way of serving it today. Instead it merely calls for two toasted slices of bread, thin slices of turkey or chicken, bacon, lettuce, tomato, and mayonnaise. It's unclear when the two slices of bread became three, or even four or five in some versions. Some call this a flagrant disregard for the original club sandwich, and others love the crispy middle piece of toast that adds extra mayo and separates the bacon and turkey layers.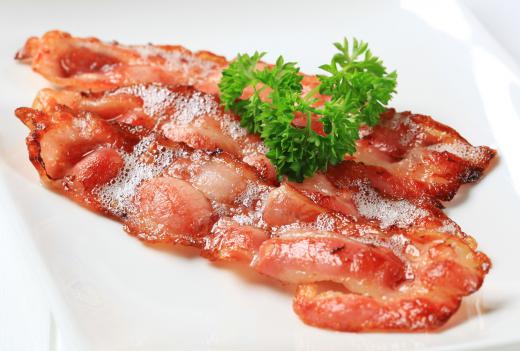 Today's club comes in a lot of variations. Though the double-decker is still a classic way to put ingredients together, there are differing opinions on what those ingredients should be. Some believe in adding more meat to the club, offering turkey, ham and bacon. Others make their clubs out of turkey and ham and omit the bacon. There are club versions with cheese, made with un-sliced half chicken breasts that have been grilled, and many other incarnations.
It is difficult to find consensus about what condiments are best to use. The club sandwich purist may insist in having mayonnaise only, while others want mustard too. Just about the only thing you're likely to find on all clubs is lettuce and tomato, but from that point forward, expect lots of differences.
When club sandwich fans have agreed on what to put on their sandwich and how many pieces of toast to use, the next big question is how this dish should be served. A traditional offering, especially when at least three pieces of bread are used, is to cut the sandwich diagonally into fourths, and hold each piece together with a toothpick. Restaurants may offer choices on side dishes. French fries are a typical accompaniment, but some people feel that the four sections should surround potato salad. Chips are another choice for some.
However you slice it, serve it, or vary it, the club sandwich is steeped in lore, and remains a classic offering in most diners and lunch restaurants. It's popular in the UK too, where you'll find even more ideas on how to make one.
AS FEATURED ON:
AS FEATURED ON:








By: Viktor

Bacon is uaually included on a club sandwich.

By: Viktor

French fries are often served with club sandwiches.

By: Alexandra

Mayonnaise is often used as a condiment on club sandwiches.

By: Christian Jung

Chicken breasts can be used in sandwiches.