Jalousie is a French pastry that combines elements that are normally associated with both a turnover and a strudel. Infused with a sweet filling in the middle, jalousies are made with basic pastry dough that is baked into a crust that is light and fluffy. The filling is normally made with fresh fruits that are baked to release the natural juices. Sugar is added to help form a thick syrup with the fruit. Although the pastry dough can be made from scratch, it is possible to make jalousie using the same type of frozen pasty dough that are used to make turnovers and strudels.
As is true with most French pastries, there is an art to making jalousie. Much of the focus is on the preparation of the dough. Once the dough is kneaded and rolled out, rectangles that are roughly ten to twelve inches wide and twelve to fourteen inches long should be cut and trimmed. Two rectangles are required to make a jalousie. The first rectangle is placed flat on a baking sheet. Next, the filling is spread in a thick layer on the bottom rectangle.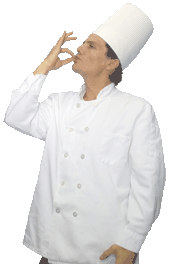 Once the filling is in place, the second rectangle is used to provide the top crust on the jalousie. In order to close the pastry, the edges of the two rectangles are pinched together by hand, or crimped with the tongs of a fork. Before baking, it is important to cut slits in the top crust. This will allow steam to escape during baking and also create decorative windows in the crust that will reveal the colors of the fruit filling.
Baked jalousie can be enjoyed alone, or topped with whipped topping or ice cream. Generally, the jalousie is cut into sections beforehand and served at the end of a meal, but it is certainly acceptable to present the jalousie at the table, offering slices of the pastry along with coffee. One of the advantages of jalousie is that it is possible to control the ingredients that are used to make the dessert. This means any household that is watching the intake of preservatives can easily prepare jalousie using fresh ingredients that do not contain preservatives.
In addition, persons who are attempting to control their use of processed sugars can easily limit the amount that is used in making the syrup to go with the baked fruit filling. One of the simplest of all French pastries, the jalousie can be a welcome change from the usual desserts, making a simple meal seem a bit more festive.
AS FEATURED ON:
AS FEATURED ON:








Chef