Choux pastry is a light pastry that is best known when used for a shell to make desserts like cream puffs and éclairs. It's a simple thing to make since it doesn't require the same deft hand needed to make pie crust or puff pastry. Choux pastry is also unusual because the ingredients are actually cooked on the stove top prior to being baked in the oven.
The ingredients of choux pastry are quite simple. Generally, choux is just a mix of butter, flour, water and eggs. Butter is melted, flour is added, and eggs and water are beaten in over low heat. After the choux has been combined, it can be dropped onto pans, or piped onto them to create special shapes. The French are known for their beautiful choux pastries in the shape of swans, often served at the end of meals of several courses in fine restaurants. Choux may also be used to make beignets or other deep-fried desserts like funnel cakes.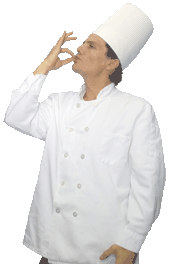 When the choux pastry is baked it is golden brown outside, but is somewhat wet inside, similar in taste and texture to scrambled eggs. Those planning on filling the choux shapes can scoop out the inside layer to make more room for filling. Alternately, some people merely make a hole in one end of a pastry and pipe ingredients like whipping cream or custard into the pastry. Cooks can get more into the pastry by cutting it in half, removing the interior and then filling it.
Many desserts have come about since the invention of choux pastry in the 16th century. Italian desserts make considerable use of them. A St. Honore Cake is a rum soaked cake that is surrounded by individual cream puffs, made with choux. Cream puffs may also be stacked in the Italian tradition, forming a pyramid shape, and then have chocolate poured over them.
Choux pastry is not only useful for dessert. Cooks can fill choux with wonderful vegetable or fish mousses, chicken salad, or a variety of other savory treats. Cooks should make sure to fill choux at the last possible moment if using ingredients with a lot of moisture to avoid a soggy pastry. The exterior shell of the choux should remain crisp, and it will quickly lose its crispness if stored in the fridge for too long or filled with soupy ingredients.
AS FEATURED ON:
AS FEATURED ON:








Chef