A meat chart is a diagram that provides information on different cuts of meat. The chart may be devoted to one animal or many types of meat from various sources. Most have drawings of the entire animal with smaller pictures of where each cut of meat comes from. Suggested cooking methods are often part of the chart as well. Versions may be designed for use by butchers and other meat cutting professionals or be geared toward the interests of household cooks.
Beef and pork are the two most common meats depicted on charts. This is normally attributed to their popularity, availability, and adaptability to various cooking methods. Other charts frequently show lamb, veal, and chicken and advice on how to cook them.
A significant number of consumers are not familiar with the names of different cuts of meat available at supermarkets. Since a butcher may not be available to assist them, a meat chart can be very helpful in distinguishing one cut from another. Being able to choose the correct cut of meat for different dishes and cooking methods normally gives the cook more confidence. This knowledge may also save money by ensuring the cut of meat will be tender and tasty when properly prepared.
An example of how a beef chart can help a consumer make good choices is the common confusion that often surrounds steaks. Steak choices normally range from boneless shoulder steak to tenderloin or filet mignon, with up to 15 different varieties in between. The former cut is customarily priced about 75% less per pound than the latter.
This big difference in price is based primarily on the tenderness of the steak. A boneless shoulder steak is basically a pot roast that is a muscular and marbled section of beef from the front of the cow. It benefits from long, slow cooking or braising to break down its fibers, which tenderizes it.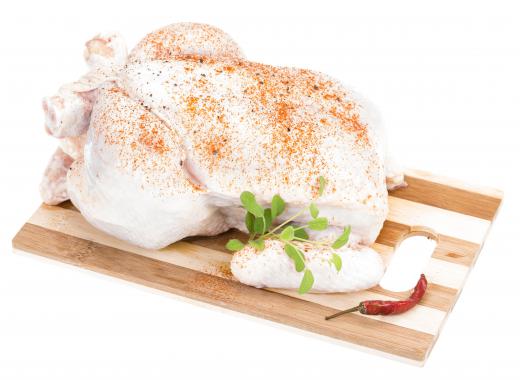 The filet mignon comes from the middle of the cow, called the short loin section. Unlike the shoulder, it is free of muscle and marbling because it does not get the physical workout of a cow's shoulder. This type of steak is best cooked by quickly grilling, broiling, or stove-top pan searing each side of the steak to the desired doneness, normally referred to as rare, medium rare, medium, and well done.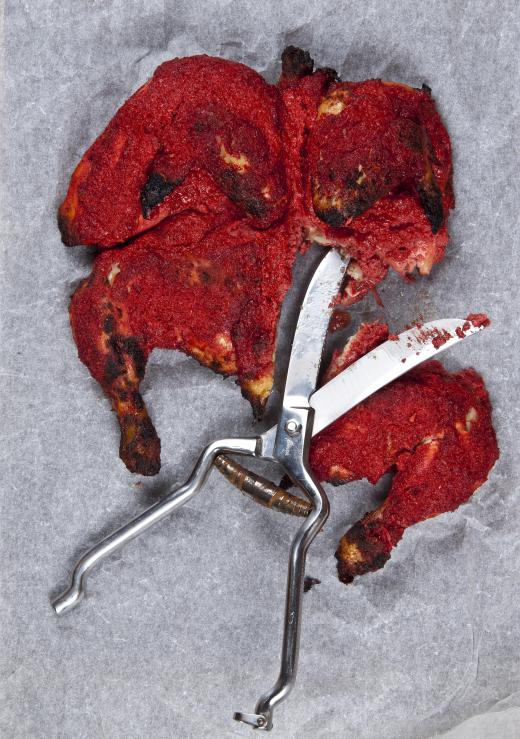 Other meat charts normally provide much of the same information as the beef chart. The pork chart breaks the pig down into chops, steaks, and roasts and points out where bacon comes from and which parts are normally ground into sausage. Poultry charts commonly provide instructions on how to cut up a whole chicken and carve perfect breast fillets.
Meat charts are sometimes included in general purpose or specialty cookbooks as well. They are also available for viewing or purchase through a number of Internet websites. Colorful, framed ones can be purchased as educational kitchen decorations.
AS FEATURED ON:
AS FEATURED ON:








By: Eric Isselée

A pork meat chart showing the different cuts of meat and where they come from on a pig.

By: Joe Gough

A grilled steak.

By: Andrey Starostin

Poultry charts usually give instructions on how to cut up a whole chicken.

By: mipstudio

Meat charts can be useful for guiding cuts during the carving process.