A meat platter typically refers to a presentation of cold or hot meats on a platter from which diners can serve themselves. In some cases, the meats served on a platter may be thinly sliced cold cuts intended for sandwiches, while in other cases the meats may be prepared and presented in other ways. It is not unusual for meat platters to also include other foods, such as cheeses or various sandwich garnishes and relishes. Some people choose to make their own meat platter for serving at a meal or event, although these platters are also a staple of many delicatessens, banquet halls, and catering services.
Many people find that casual meals or hors d'oeuvres are most easily served from platters placed on one or more tables. This allows guests to serve themselves, reducing the need for additional serving staff or additional work on the part of the party host. At many events, it is not unusual to find more than one type of meat on a serving platter, permitting each guest to choose what he or she gets to eat. Meat platters are often popular for lunchtime meetings at offices, as they save the person who is coordinating the lunch from having to order specific sandwiches for each diner.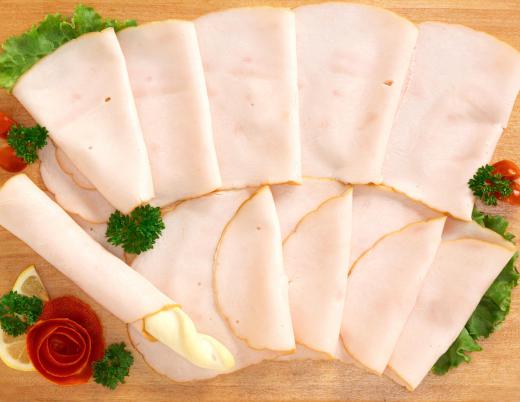 The sandwich platter is perhaps the best-known type of meat platter. Each sandwich platter varies in content and size, but typically includes several different types of cold cuts, including roast beef, turkey, and ham. In some cases, the meat is arranged in an attractive way with parsley tucked in between the meat for a more attractive appearance. The center of the tray may be filled with some type of salad or relishes such as olives or pickles. A sandwich meat platter may also include sliced cheese and may be accompanied by a platter of sandwich toppings, such as onions, shredded lettuce, and sliced tomatoes.
Other types of meat platters include the appetizer platter, which may be made up of cold or hot meats. If a cold meat platter typically contains chunks of relatively firm meats, such as ham or sausages, those meats can be speared with toothpicks and consumed alone or dipped in mustard or barbecue sauce. A hot meat platter, on the other hand, is often made up of skewers of various types of marinated and grilled meat, such as chicken, pork, or beef. Other options may also include ribs or even chicken wings, both of which can be consumed without needing a knife and fork.
AS FEATURED ON:
AS FEATURED ON:








By: Studio Gi

A meat platter may consist of thinly sliced cold cuts.

By: qingwa

Meat platters are a catering staple at many banquet halls.

By: Bert Folsom

A meat platter may have different sandwich options.

By: Minerva Studio

Delis usually stock smoked turkey or roast chicken that can augment a meat platter.

By: JJAVA

A meat platter might offer appetizers, including mini sausages.

By: Denis Tabler

Meat platters often include cheese as an accompaniment.

By: amenic181

Some meat platters may include ribs.

By: Vitos

The cooked or barbecue section of a meat platter will often feature chicken.