What Are the Different Types of Party Platter Trays?
Party platter trays commonly consist of mixed foods and dips on one or several food presentation trays. The specific foods on these trays vary widely but all tend to be finger foods of one sort or another. The physical trays range from simple disposable plastic trays, with little adornment, all the way to elaborate serving vessels with specialized compartments for different foods, dips, and sauces. Many stores and restaurants sell party platter trays, but assembling trays from scratch can save money and add unusual style elements to a get together.
Vegetable party platter trays are very common and are sold in many stores. Such trays typically contain an assortment of freshly-chopped vegetables in handy bite-sized portions. Carrots, broccoli, and celery sticks are all common on this sort of tray, but any vegetables that can easily be eaten by hand may appear. Many of these trays include one or more dipping sauces for use with the vegetables.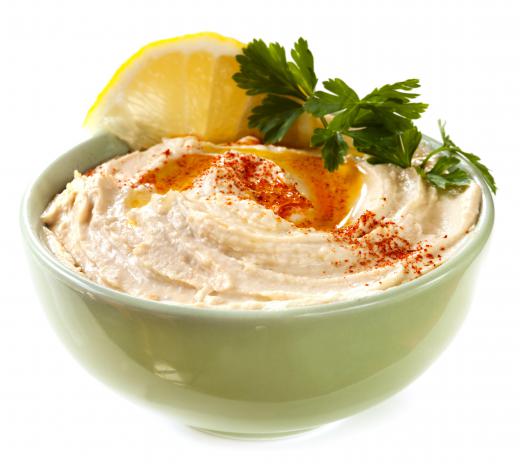 Meat and cheese samplers are another common style of party platter tray. These assortments usually include a mixture of hard sausages and similar cooked and cured meats. Cheeses on these trays are usually in the form of small cubes or slices but may also be served on boards with cheese knives, especially when softer cheeses are involved. This type of party platter tray often includes crackers or some other bread product.
Many other sorts of finger food can also be served on party platter trays. Small finger sandwiches or portions of larger sandwiches are often used as party snacks. Hummus and flatbread or olive assortments can also be served for a more Mediterranean feel.
The physical trays used for party platter trays vary widely. The simplest are utilitarian plastic items. Pre-packaged snack assortments typically include inexpensive disposable plastic serving trays. Once an appetizer platter is finished, these trays can simply be recycled.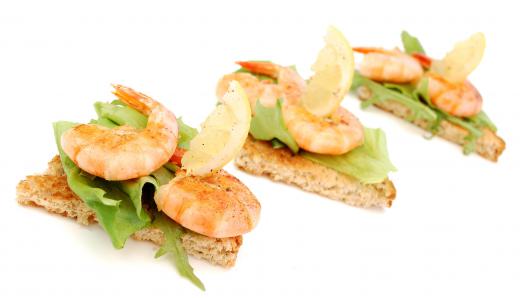 More elaborate party trays are available, however. Specialized tray sets often include platters with small containers for different sorts of vegetable or dip. This type of tray is available in many different novelty styles, and the right style of tray can add a great deal to the ambiance of a party.
Trays decorated in a tiki motif are available for barbeques or retro lounge parties. Elegant silver tray sets are sold to serve party platter trays in more upscale environments. Many kitchen collections include serving tray and party platter components, which coordinate with the other elements of a given collection.
AS FEATURED ON:
AS FEATURED ON:








Hummus can be a great addition to a party platter.

Crostini with mozzarella cheese, chopped tomato and basil.

Shrimp canapés.

By: uwimages

Most party platter trays consist of finger foods.

By: nataliazakharova

Various chips with dip could be offered on a party platter.

By: JJAVA

Cocktail sausages may be served on a platter tray.

By: Louella Folsom

Different types of pickles may be found on a party platter tray.

By: Kybele

Party platter trays may include chicken wings.