What is a Nouvelle Cuisine?
Nouvelle cuisine, a French term meaning new cuisine, commonly refers to food that is a healthier, lighter alternative to haute cuisine or cuisine classique. It is generally perceived to concentrate on delicate dishes with simple yet elegant presentations. However, it is also customarily associated with certain chefs and cookbook authors dating back to the 1740s.
Haute cuisine generally refers to elaborately prepared food. Cuisine classique typically indicates French classic cuisine, often typified by dishes laden with heavy ingredients such as cream and butter that are served by course. Cuisine classique was popularized in the 20th century and replaced service a la francaise, which required all dishes to be served at once.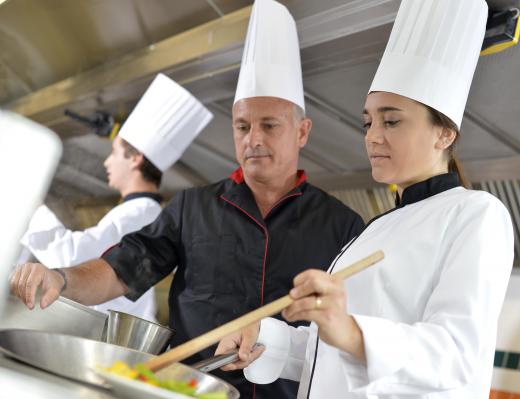 French dishes prepared by famous chefs Menon, Vincent La Chapelle and Francois Marin in the 1740s were the first ones referred to by this terminology. The legendary Auguste Escoffier, generally considered the impetus behind the development of modern French cuisine, often had the term applied to his creations in the 1880s and 1890s. In the next century, the term re-emerged almost every time a new French chef took center stage in the culinary world.
Acclaimed French chef Paul Bocus, along with other cooking masters, created the menu and prepared the food for the maiden flight of the Concorde airliner in 1969. Celebrated cookbook authors Henri Gault and Christian Millau used the term nouvelle cuisine to describe the dishes served on the historic voyage. They praised the menu's sophisticated offerings and complimented the chefs on the simplicity and lightness of the ingredients they chose.
This observation spawned the term cuisine minceur, which translates to "thin cooking." The term became somewhat synonymous with nouvelle cuisine. When the terminology became more common, its meaning began to more frequently refer to menu items that were less fattening than classic French cuisine.
Cookbook authors Gault and Millau are commonly credited with defining the ten traits that characterize genuine nouvelle cuisine. The preparation must be simple and require a minimal number of steps. Cooking times should be reduced to maintain the natural tastes of vegetables, meat, fish and poultry. Only the freshest possible ingredients should be used in this cuisine style.
Other qualifying traits for nouvelle cuisine include short menus and lighter food item choices. Strong marinades, for example, are normally replaced by lighter versions in this style. Heavy sauces made with dairy products and starches are traditionally replaced with light sauces created with lemon juice and fresh herbs in this type of cooking. More regional dishes using local ingredients also are typically preferred for nouvelle cuisine creations.
Unlike former cooking styles, nouvelle cuisine promotes the use of modern equipment and techniques. The style also requires the chef to consider the best dietary choices for diners in terms of fat, sodium and salt. Nouvelle cuisine also requires cooks to develop innovative pairings of foods.
AS FEATURED ON:
AS FEATURED ON:








By: goodluz

Chefs who prepare nouvelle cuisine may create regional dishes that use locally sourced ingredients.

By: robynmac

Nouvelle cuisine is usually relatively light and healthy.