What is California Cuisine?
Alice Waters is often credited as the inventor of California Cuisine in the 1970s at her famed restaurant Chez Panisse, in Berkeley, California. This movement was considered reactionary, and though it takes many of its roots from French cooking, it opposed the French tradition of serving foods that are not in season. Instead, California Cuisine evaluated the abundance of produce available locally and seasonally, and used these foods to form the basis of different dishes. Artichokes or strawberries, figs or mixed lettuces, all were used when in season. So the cuisine of a restaurant would change with the seasons offering an interesting and varied menu.
California Cuisine became the "it" food for a while. Restaurants like Wolfgang Puck's Spago sprung up to meet the demands of this new cooking. Actually the cooking was not precisely new, as chefs in Europe had worked with the same theories for hundreds of years. As well, farmers can be said to have influenced this style of cuisine, because they predominantly ate the fresh foods from their vegetable gardens.
Soon the term came to be associated with not only fresh cooking, but with very tiny portions for extremely high prices. At its worst California Cuisine is extraordinarily pretentious. In some high-end restaurants one can expect to pay more than 20 US dollars for a very small salad of mixed lettuces.
At its best however, this style of cuisine can offer delicious foods that are marked by their freshness and abundance. Produce is usually obtained daily. Seafood like the Dungeness crab is purchased when in season. Resultant dishes produce fantastic flavors because the food is so fresh. California Cuisine also early displayed a marked interest in organic farming, and diners discovered, to their delight, the taste of foods free of pesticides.
California Cuisine also brings us early fusion cooking forms. Though one might get traditional produce, one might also try bok choy, or loquats, or make use of the huge variety of local peppers to vary restaurant offerings. This style of cooking also capitalized on trends in the culture toward vegetarianism. A mixed veggie plate served with cheese sauce made from local cheeses might tempt the vegetarian. As well, egg dishes, made from cage free eggs, or soufflés made from cream from local dairies could be offered.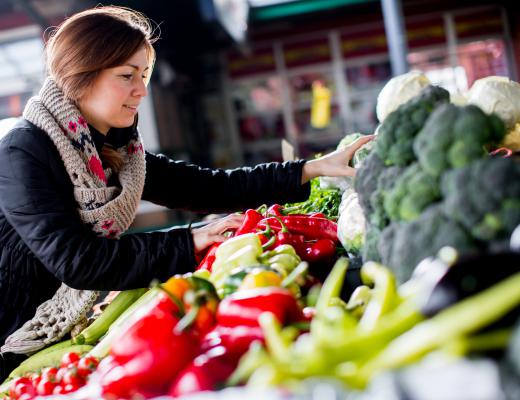 One of the locus points of California Cuisine outside of the major cities was the John Ash Restaurant in Santa Rosa, California. Local produce, dairy products, eggs, and meat were always the hallmark of Ash's minimalist approach to food. However, the ever-growing population of grape growers, who have often destroyed local farms to grow yet more grapes, is affecting this type of cuisine. This trend means that most produce purchased at local farmers' markets and from suppliers is no longer fresh picked, but trucked in from the Central Valley.
AS FEATURED ON:
AS FEATURED ON:








By: PHB.cz

Fig salad with hardboiled eggs.

By: raptorcaptor

The Dungeness crab can be purchased when in season.

By: Goran Bogicevic

California Cuisine dishes often feature freshly harvested, organic produce.

By: goodluz

Chefs who specialize in California Cuisine often create dishes that use fresh, locally sourced ingredients.