A pastry ring is a baking accessory which can be used to shape pastry and hold it together during baking or assembly. Pastry rings come in an assortment of shapes and sizes, and they can be used for things beyond pastry. For example, a pastry ring can be used to create a tower of stacked savory food items for an interesting presentation at the table. Many kitchen supply stores carry pastry rings, and these accessories can also be improvised at home.
Some pastry rings are designed for baking, in which case they are typically made from metal or silicone, a material which can withstand high heat. Others are used for molding only, made from plastic, cardboard, and other materials which may not be heat-safe. Many bakers keep a mix of both around, to ensure that they have the tools they need ready to hand.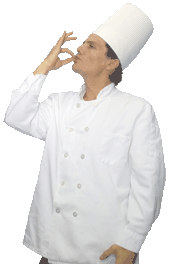 When a pastry ring is used in baking, it holds the pastry as it bakes, ensuring that it bakes into a specific desired shape, rather than a blob. The ring is usually thin, promoting the development of an even crust and allowing the pastry to bake all the way through. In some cases, bakers may remove a pastry ring partway through the baking process, once the pastry has set enough to make removal safe.
Pastry rings are also used like molds to form raw pastry so that it will look neat and aesthetically pleasing after baking. Pastry can be piped into a pastry ring, for example, or a pastry ring can be used when a cook is assembling a pastry from prepared components, keeping the components stable while the pastry is built. For instance, a cook might use a bottom layer of cake, followed by a layer of pastry cream, another layer of cake, a layer of ice cream, and a layer of mousse. When created in a pastry ring, this dessert would be perfectly aligned with crisp edges, whereas the freeform version would run the risk of being lopsided and messy.
Some pastry rings are adjustable, or designed as springform rings. Others are solid, and they need to be handled with care to avoid damaging the pastry. Pastry rings can be huge and shallow, as in the case of tart rings, or small and tall, as in the instance of the pastry rings used to make towers of food for fancy meals.
You can improvise a pastry ring with a cookie cutter, length of pipe, or a glass, depending on what you need the pastry ring for. If you're feeling especially creative and confident, you can even heat plastic piping to soften it and then mold it into a shape such as a heart, square, or star which can be used to make shaped pastries.
AS FEATURED ON:
AS FEATURED ON:








Chef