Kourabiedes, also called almond crescents, are traditional Greek butter cookies served mainly at Christmas and other family-centric celebrations, such as weddings, birthdays, and Easter. These cookies are similar to shortbread, but often have almond flavoring; variations on the cookie may contain other additional ingredients. Kourabiedes are commonly recognized by their shapes: a small circle, an "S" formation, or a long crescent. They are almost always dusted liberally with confectioner's sugar as well.
Most recipes for these cookies call for basic staples, such as flour, sugar and butter, as well as such agents as baking powder and baking soda. Extract of vanilla and almond as well as ground or finely-chopped almonds, are also usually necessary. As kourabiedes are so popular for large celebrations, many recipes yield several dozen at a time. One may wish to carefully halve a recipe if fewer cookies are desired.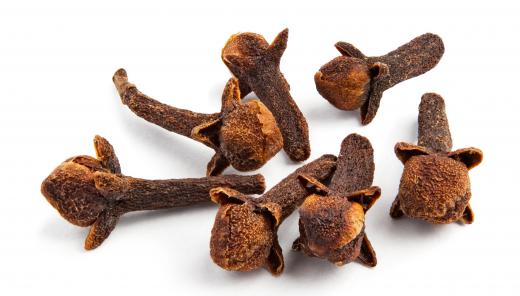 Almond crescents often require mixing by hand, as the flour is gradually folded in. The use of an electric mixer or beater may be an option with some recipes, however. The resulting texture of the cookies should be light and airy. Experienced bakers tend to recommend cooling the dough in the refrigerator first, then shaping the cookies into the desired shape with one's hands. After baking, the cookies are often sprinkled with a thick layer of icing sugar.
Many Greek families will have kourabiedes on hand during the holidays, but each family may have specific variations that have been passed down through generations. At Christmas, one tradition is to include a whole clove on the top of the cookie. The clove symbolizes the gifts brought by the Magi to the Baby Jesus in the Bible.
Other flavorings may be added in lieu of, or in combination with, vanilla. Liquor such as brandy, Greek mastika, or mextaca — a blend of brandy and wine from Greece — are sometimes added to kourabiedes. Ouzo, which has an anise or licorice flavor, is also used occasionally. After the treat is removed from the oven and slightly cooled, rose water may be sprinkled on the cookies before dusting with sugar to help the coating to stick.
Many recipes can be found online and in dessert cookbooks. Traditionally, kourabiedes can be kept fresh for several months if stored properly in airtight containers. This is true for both the dough and the finished product. Extra layers of confectioner's sugar may help to keep the cookies fresh and to discourage sticking to one another or to the container.
AS FEATURED ON:
AS FEATURED ON:








By: bergamont

Kourabiedes are commonly topped with a single clove.

By: Nigel Monckton

Putting a whole clove on a Christmas cookie is a way to honor the gold, frankincense and myrrh given to baby Jesus.