A saucepan is any type of pan most commonly used for heating sauces and gravies. Saucepans are also made to cook, saute and reheat various foods such as rice, pasta and potatoes. They can be shallow or deep and come in various sizes and materials. From large stockpots to smaller saute pans, some are made for use in the microwave as well.
Most commonly, saucepans are available with a non-stick coating or a copper-clad bottom. Those with copper-clad bottoms are good for distributing the heat evenly while cooking. Aluminum cooking pans are also popular, as well as the anodized aluminum. Stainless steel is another commonly seen variety. Cast iron versions have been around for many years.
Consumers also have the option of purchasing a saucepan set, which is made for versatility and convenience when preparing a large meal. Some of these sets come packaged with other cookware as well, such as a frying pan or some type of baking utensil. Some are known as a double-boiler. Generally, the double-boiler incorporates the use of a large pan and a smaller one, which is placed inside. This is a popular method of cooking puddings and other desserts.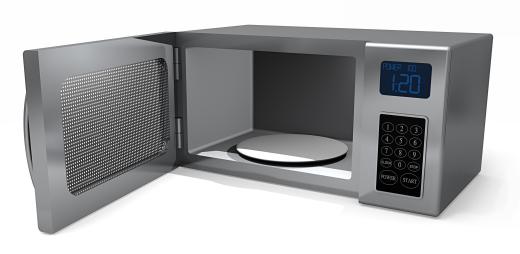 Many saucepan sets come with tempered glass lids. Often, the lids will be ventilated to allow steam to escape. This is for the convenience of steaming foods such as fresh vegetables. Many of these can also withstand a high degree of heat, so they can be used in the oven as well as on the stove top.
A saucepan with a stainless steel straining lid is used for cooking foods like pasta. The strainer acts as a built-in colander. Also known as a straining saucepan, it can come in various sizes, from the personal one-serving to a large family-size pan. Some of these pans have a spout for pouring boiling water for tea or other beverages.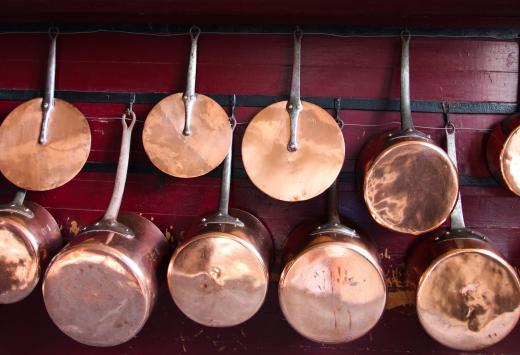 Different types of saucepans have advantages as well as disadvantages to consider. Stainless steel ones are known to resist scratching and require minimal care and clean up. Cast iron pans generally require guarding against possible rusting, although they are generally sturdy and long-lasting. Copper saucepans often require polishing to help retain its reflective shine.
AS FEATURED ON:
AS FEATURED ON:








By: Springfield Gallery

A stainless steel saucepan with a tempered glass lid.

Some saucepans can be used in the microwave.

By: akulamatiau

Copper saucepans, which distribute heat evenly, are good for making sauces.

By: Tiramisu Studio

Saucepans that can withstand a high degree of heat may be used both on the stovetop and in the oven.