What is a Signature Dish?
Signature dish is terminology that is commonly used in connection with dining out. The term refers to a food item that is linked to a specific restaurant or chef. In some cases, it is also used to refer to the homemade specialty of a novice.
The menu at a restaurant is usually a product that involves a lot of planning. In some cases, restaurants hire professionals to do this for them. In the case of chain restaurants, they often request that one or more signature dishes be developed in the process.
These specialties can serve several purposes. A signature dish can help to give the restaurant a certain identity; it also can convert people into loyal customers. No matter how far each branch is from the next, the signature dishes are usually the same. Some people will go to that chain restaurant no matter where they are and always order the same signature dish. For this reason, signature dishes at a chain restaurant generally need to be appealing to a diverse market.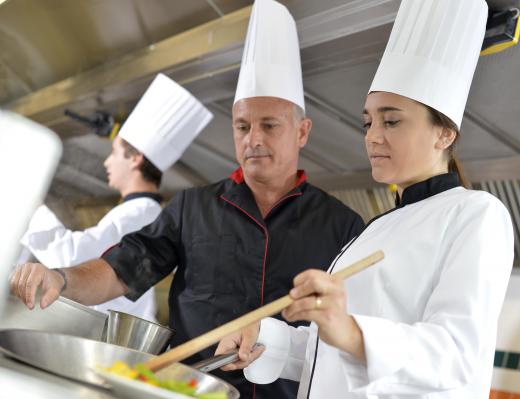 Chefs create signature dishes for many of the same reasons. Doing so can help them to create a name for themselves. When they are looking to expand their careers along paths such as selling cookbooks or hosting cooking shows, their signature dishes are often what spur their popularity. A chef, however, may not be as concerned with making his signature dish have mass appeal. Chefs are often more concerned with creativity and niche markets.
A signature dish is not always a product of planning. Often a restaurant or chef is informed what their specialty is by customer feedback or sales. A restaurant or chef can become widely known for a dish, only to realize it later.
Although a signature dish can have its benefits, it also can have its drawbacks. When a consumer base is built around an item, that base often will resist change. This means that when a chef or restaurant considers changing a menu, they may lose a portion of their loyal customers. At the same time, pacifying these individuals may prevent market growth.
Some novices also have signature dishes. This is common with people who are social and who engage in a great deal of in-home meal entertainment. A hostess, for example, may be known for a specialty. It may be expected that she make it or bring it to any type of gathering that calls for her to cook.
AS FEATURED ON:
AS FEATURED ON:








By: stockyimages

A head chef may create a customized menu and signature dish based on his area of culinary expertise.

By: goodluz

Executive and head chefs at high-end restaurants often create special menus that feature their signature dish.

By: Minerva Studio

Creating a signature dish can help chefs make a name for themselves.

By: Alejandro Catalan

Chefs who create a signature dish might recommend drinks that will enhance the meal's flavor.