A snickerdoodle is a type of soft sugar cookie dusted with cinnamon and sugar. Usually, the snickerdoodle has a slightly crackly or crinkly top, and snickerdoodle cookies are often served at Christmas. Some cooks add more shortening and lengthen the cooking time to make a crunchier snickerdoodle, and others add ingredients including nutmeg, nuts, and dried fruit. A traditional snickerdoodle, however, remains unadorned except for cinnamon and sugar.
The origins of the snickerdoodle are shrouded in mystery. On the surface, the snickerdoodle is a very basic cookie, and therefore one that could easily have been invented numerous times in kitchens all over the world. The Joy of Cooking attributes the cookie to Germany, suggesting that the name is a corruption of the German word schneckennudeln, a type of cinnamon dusted sweet roll. The cookie may also be of Dutch origin, with its name being a contraction of Saint Nicholas. It is also possible that the cookie is a relative of the British-inspired Christmas cakes and cookies common on the Eastern Seaboard of the United States.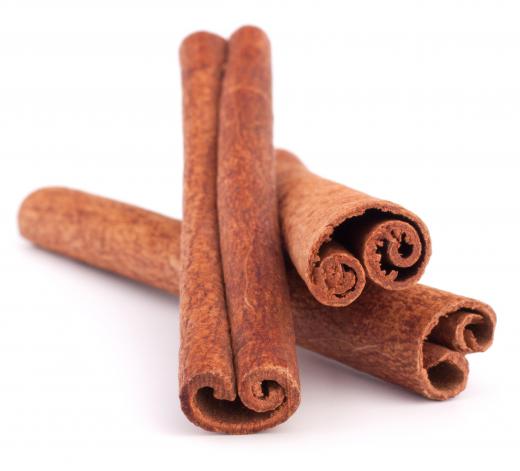 Like other holiday cookies, such as gingerbread men, the primary flavor of the snickerdoodle is a spice. Because snickerdoodles use a sugar cookie base, however, it's possible to make a wide variety of holiday cookies from one batch of dough, instead of being forced to mix multiple batches of dough for different cookies. The versatile snickerdoodle is also easy and quick to make, and it is often used to teach children how to bake as a result. Traditionally, after the dough is made, the cookies are rolled in a cinnamon and sugar mixture and pressed with a fork twice to make a characteristic grid pattern on the top of the cookie. Some bakers prefer to make snickerdoodles with a plain top, allowing the slight cracking that occurs during baking to create its own pattern.
To make snickerdoodles, cream one cup butter or shortening with one and one half cups sugar. Mix two beaten eggs into the shortening mixture. Sift together three cups flour, one quarter teaspoon salt, one teaspoon baking soda, and two teaspoons cream of tartar, and add to the wet ingredients. Fill a shallow plate with a mixture of cinnamon and sugar, and as individual cookies are scooped out, roll one side in this mixture before putting each cookie on an oiled baking sheet. Bake at 400°F (200°C) for ten minutes or until golden.
AS FEATURED ON:
AS FEATURED ON:








By: Natika

Cinnamon is a key ingredient in snickerdoodles.

By: Vidady

Baking soda is an ingredient in snickerdoodles.

By: uriy solovyov

The dry ingredients for snickerdoodles should be sifted together before the wet ingredients are added.