A Spanish onion is a type of onion that is typically about the size of a softball, has a fine grain, and a yellow or white skin. It's known for its very mild flavor, with many people finding it sweet enough to eat raw. Though Spanish onions don't keep very well, they are versatile enough to work in many different types of dishes. They are also popular with home gardeners, since they produce a lot of fruit but are pretty low maintenance.
Uses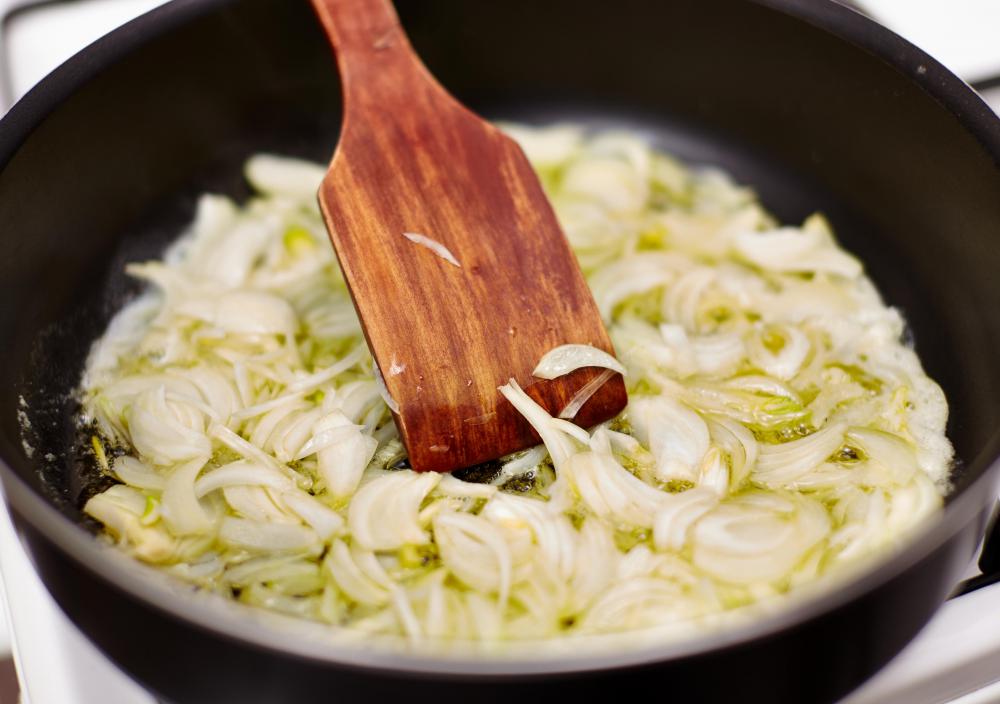 These vegetables can be used both in bulb and green form in almost any dish that calls for onions, but they generally taste best when lightly cooked. This is because a Spanish onion has a relatively low sulfur content, which gives it a delicate taste that can be overwhelmed or destroyed through long cooking. Those who want to enhance the sweetness can grill or gently saute slices of onion for a few minutes, which will make them more aromatic and give them a dark caramel look. Additionally, they can be substituted for regular white or yellow onions or shallots, and can also be substituted for red onions, though they will make the dish a little sweeter.
Storage
Spanish onions can generally last a few weeks when stored properly, though they don't last as long as other varieties, since they have more water and sugar in them. The most important thing when storing them is to make sure that they're in a cool, dry place and have enough ventilation. An open paper bag or a clean pair of panty hose often works well for storage. Storing a Spanish onion in a plastic bag will cause it to go bad much more quickly, since it won't get enough air and the bag can trap moisture, which causes rot.
Growing
People can grow Spanish onion plants at home fairly quickly, with it taking about four months for a plant to produce edible fruit. These plants need lots of exposure to sun, and seeds should be planted about 4 in (10 cm) apart. Once the seeds are in the ground, the soil around them should be kept moist, but not too wet, since this could cause them to rot. To get stronger tasting onions, a sulfate-based fertilizer can be used, while a nitrate-rich fertilizer will make for a milder taste. The bulbs are ready to be harvested when their tops start turning brown and fall over. After harvesting, they should be set out to dry for about a week, and then the tops should be cut off before storage, leaving an inch (2.5 cm) or so of stem.
Spanish onions are large and round.

By: xalanx

Bring out the sweetness of Spanish onions by sauteing lightly in butter or oil for a few minutes.