Onion powder is a spice made from dried onions that retains some of the pungency and flavor of fresh ones. Some cooks like to use the powder because it is easier to handle than fresh onions, requiring no chopping or special treatment, and a number of recipes call for it. Most markets carry this spice, typically with the other dried spices, and there are several varieties available in many places.
Bulb onions are used for onion powder because the bulb concentrates much of the flavor and distinctive aroma of the onion. Typically, the bulbs are dried and then ground, although some companies grind them into a paste and dehydrate it, claiming that this enhances the flavor. In either case, the end result is a fine whitish powder with an intense onion scent.
Many stores sell several of varieties of onion powder. White, yellow, and red powders can often be found, each harnessing the distinctive flavors of these onion varieties. Shoppers may also be able to find toasted onion powder, which has a more nutty, full, slightly sweet flavor. In addition, it is also possible to find onion flakes, which can be used when cooks want to add a little texture to a dish along with flavor.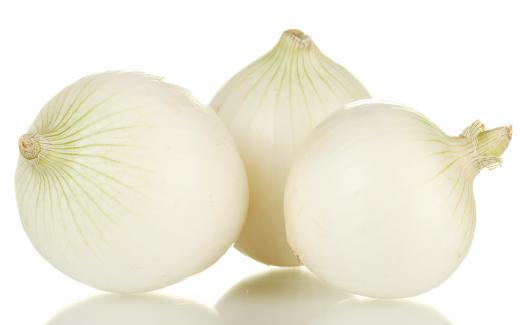 In cooking, a single teaspoon (2.4 g) of onion powder can replace an entire medium-sized onion, although cooks will experience some loss of flavor. For example, in recipes that call for onions to be caramelized, replacing fresh ones with powder will change the flavor of the end product, as the caramelization process brings out the natural sweetness of the onions. In other instances, the substitution is less noticeable. The spice can also be used to add zest to dips, toasted bread, croutons, and so forth.
Like other spices, powdered onions need to be stored in an airtight container in a cool, dry, dark place. Ideally, it should not be exposed to moisture; instead of shaking a container over a cooking pot, for example, cooks should measure out a desired amount with a spoon. When well handled and stored well, the powder can keep for up to a year, although it may lose potency.
AS FEATURED ON:
AS FEATURED ON:








By: marilyn barbone

Croutons may be flavored with onion powder.

By: Africa Studio

Onion powder is made from dried onions that retain the pungency of fresh onions.