What is a Submarine Sandwich?
A submarine sandwich, sometimes called a sub sandwich or simply a sub, is a substantial sandwich made from a variety of cold cuts, sliced cheeses and condiments such as shredded lettuce and sliced tomatoes. The ingredients are assembled on a long roll or baguette and finished off with an oil and vinegar dressing. The roll's resemblance to an actual military submarine gives this sandwich its name.
There are a number of different theories on the origin of the submarine sandwich, from an Italian immigrant's recollection of a raised submarine to a Boston, Massachusetts sandwich maker's most popular offering to nearby naval personnel. In general, the shape of the often specially baked bread roll resembles the rounded tubular shape of a genuine submarine, although modern subs do not always adhere to that standard.
Considering the number of meats, cheeses and condiments available, a modern submarine sandwich could be anything from a basic ham and cheese sandwich to an overstuffed Dagwood-style monstrosity. Most feature two or three cold cuts, typically ham, salami and bologna, and a mild cheese such as provolone, American or mozzarella. A generous supply of shredded lettuce and thinly sliced tomatoes give the sandwich some moisture, and a dash of an oily vinaigrette adds a slightly acidic bite.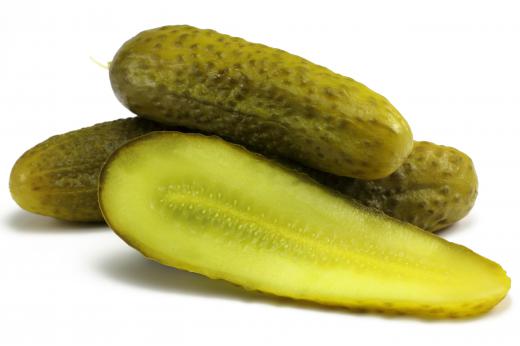 If the sandwich is created in an authentic Italian deli, it may contain spicier Italian cold cuts such as salami, prosciutto and pepperoni. Olives, pickles, pepperoncinis and other flavorful condiments may also be added to make it more savory. Although the original submarine sandwiches were served cold, a modern one may be heated under broiler elements until the cheese melts and the meat has been warmed thoroughly.
There are subtle or not-so-subtle differences between various cold cut sandwiches, but the same basic submarine sandwich may be known as a hoagie, a grinder, a bomber or a hero in different regions of the United States.
AS FEATURED ON:
AS FEATURED ON:








A submarine sandwich with deli meat and cheese.

By: Schlierner

Pickles are often used in subway sandwiches.

By: Mara Zemgaliete

Salami is often used to make a submarine sandwich.

By: ksena32

Many submarine sandwiches feature bologna.