To serve soups, stews, and other warm, wet dishes in an elegant yet old-fashioned style, some cooks like to use a tureen. This serving dish is especially designed for hot dishes. Usually shaped like an oval bowl with handles and a lid, tureens have broad mouths and deep interiors to allow for easy ladling and serving.
Old-fashioned tureens are normally made from porcelain or another ceramic base. Some are also crafted from silver. Modern varieties may be made from stainless steel or other similar materials. Many tureens are footed, which may help people and items such as tablecloths from being burned.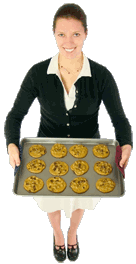 The domed lid or cover of a tureen typically features a handle or knob at its tallest point. This ensures that the diner may remove the lid without burning his or her fingers. The lid itself helps to keep the tureen's contents fresh and hot, ready to serve in both family as well as restaurant atmospheres.
In addition to a cover, most tureens come with a platter or under tray and a serving spoon. The under tray protects the server's hands from touching the hot tureen. It also helps create a sophisticated display when serving the dish. Serving spoons are normally wide and deep, similar to ladles.
While the most common shape for these serving and dining dishes is round, they can exist in many different styles and forms. Rectangular tureens are popular in some areas. Some restaurants feature more specialized, creative shapes, such as animals or abstract art. Many of these dishes are considered collectible items. Tureens in the shapes of popular film or television characters, sports team logos, and other memorabilia can also be purchased.
Tea parlors, fine restaurants, and other establishments may use the tureen as a centerpiece. Depending on its size and shape, a tureen can usually hold enough soup for two to six people. Larger tureens may be used for special events.
Tureens are generally inexpensive. Many collector's items, however may be quite costly. Such serving dishes, often made of silver or fine earthenware, are usually sold in auctions or antique sales. The world's largest collection of tureens is located in the state of Delaware at the Henry Francis DuPont Winterthur Museum.
During 18th Century France, the tureen was known as the écuelle. Rather than being accompanied by a ladle or spoon, the écuelle was simply tipped like a two-handled cup for drinking. Smaller tureens used for sauces were called saucières.
AS FEATURED ON:
AS FEATURED ON:








Woman baking cookies