The pickle dish is a time honored serving dish that is utilized mainly for a simple but effective presentation of various pickled foods at mealtime or as part of a buffet. Closely related to the relish plate, it is not uncommon for the two dishes to be used interchangeably. While a basic pickle dish may resemble a smaller version of a serving platter, there are a number of designs that are considerably more ornate.
Both pickle dishes and relish plates are intended to provide easy and practical access to food items. Many examples of the pickle dish are sold with small spears, forks, or spoons that allow users to easily move the pickled items from the serving dish to the dinner plate. However, it is not uncommon for the more simplistic examples of the pickle dish to not include these accessories. When this is the case and the setting is a casual one, toothpicks can often offer the same function as the specialized forks and spears.
While many people assume that a pickle dish may only be used for a presentation of various types of pickles, that is not the case. It is perfectly acceptable to include any type of pickled food on the dish. In fact, this approach can be used to add visual interest to the presentation, as well as provide a wider range of flavors. Pickled fruits such as pickled peaches and pears can be placed alongside jerkin pickles, dill spears, and pickled olives to make a colorful and festive addition to the table. Pear or pickle relish can also be added to the pickle dish to add another layer of texture to the presentation as well.
Because the pickle dish comes in so many different sizes and shapes, it is possible to find something for any occasion and to fit any décor. Simple plastic models are ideal for casual home dining or as a means of taking along picked items on a picnic. Larger dishes may be used for buffet tables. There are even holiday themed examples of the pickle dish that may be employed for all sorts of special occasions.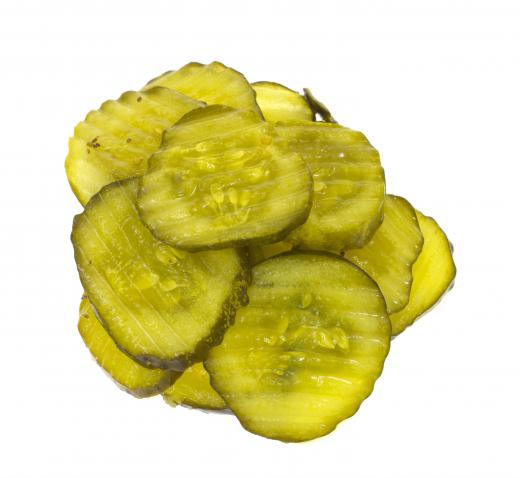 While the average glass pickle dish is an inexpensive option, the more elaborate models constructed with silver and other metals can sell for impressive rates. In addition to purchasing a new pickle dish, this handy serving option can also often be found at thrift shops, flea markets, and estate sales.
AS FEATURED ON:
AS FEATURED ON:








By: Yury Teploukhov

Pickles.

By: Janet Wall

Thrift shops are a good place to hunt for pickle dishes.

By: Louella Folsom

Pickle dishes may include sliced pickles for sandwiches.