What is an Electric Skillet?
An electric skillet is just as it sounds, a skillet or frying pan that instead of being placed on the stove is heated by plugging it into an outlet. The best skillets provide an even heating surface, not always the case with stovetop cooking.
The electric skillet may be round or square in shape. One variant that is very popular is the electric wok, making stir-frying quite simple. In the past many stoves featured a center griddle, useful for making pancakes or french toast, but now to save space, few stoves offer this feature. An electric griddle, similar to a skillet, may be just the thing for cooking pancakes, because of its even heat features. Pancakes made in a pan on the stove are frequently challenging because pans often have hot spots.
The size of the electric skillet can be as little as a 12 by 12 inch (30.48cm) square or a 12-inch diameter round pan. Some may be considerably larger, about 18 inches (45.72 cm) per side or featuring an 18-inch diameter. They really are very useful when they can be purchased in this size, because this normally exceeds the diameter of pans you can put on a stove. Make sure that you have enough room to safely house one of the larger skillets.
The electric skillet may feature temperature control, have a non-stick surface and be dishwasher safe. Just don't forget to remove the plug that plugs into the wall before putting it into the dishwasher! Some also have a "keep warm" function, which allows food to be kept slightly warm, similar to a chafing dish, if dinner needs to be delayed. This chafing dish feature allows electric skillets to work well for buffets.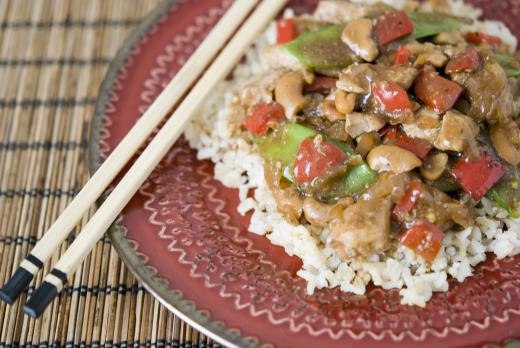 Most electric skillets are made of aluminum with non-stick coatings. A few may be stainless steel. Don't forget that with any non-stick coating, you should not use metal stirring or serving utensils, as these will scratch the coating. If your coating begins to flake, it's time to get a new skillet.
If you have young children, you should be careful when using an electric skillet, and any area where you plan to use it should be off limits. Keep the skillet far back from the edge of counters so little hands can't accidentally pull it down. When you're using an electric skillet the stovetop might seem the natural place to place it. But, if you're cooking other things on the stove, or in the oven, this additional heat could pose a fire hazard. A safer method is to cook with the skillet near the stove, but not on the stovetop.
AS FEATURED ON:
AS FEATURED ON:








Electric skillets work well for buffets.

By: Magdalena Kucova

Pancakes are a popular food item made using an electric skillet.

By: Periwinkle Studio

Stir-fries can be sauteed quickly in an electric wok.

By: mitev

Some electric skillets are dishwasher-safe provided the plug is removed before washing.