Apricot brandy is a form of brandy made from apricots. Apricots lend this liquor a very distinctive flavor, and a rich amber to orange color. Especially sweet forms of this brandy are sometimes known as apricot liqueur. This beverage can be drunk straight, used in various recipes, and added to cocktails and other mixed drinks.
Any sort of fruit can potentially be fermented and distilled to make brandy, but some fruits yield more flavorful and interesting beverages than others. Apricots, especially when they are of high quality, have a faint flavor of bitter almonds which is tempered with a natural sweetness and a complex apricot flavor. When well-handled, apricot brandy can have a very rich, complex flavor which is quite distinctive.
Brandy is made by fermenting a fruit, and then running the fermented liquid through a distiller to concentrate the flavor. To make apricot brandy, producers pulp apricots and throw them into a fermenting tank along with their skin and pits, and then allow them to ferment for roughly three months. Once fermentation is complete, the liquid can be strained off, and then distilled to make brandy. The resulting drink has a very high alcohol content, as the water partially evaporates during the distillation process.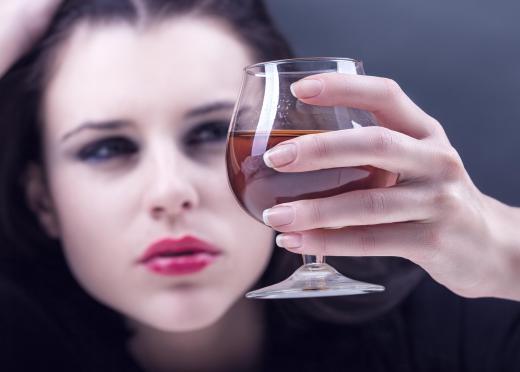 Like any distilled liquor, apricot brandy comes in a wide range of styles, and the quality can vary significantly. Depending on what you intend to use the brandy for, cheap brands are sometimes perfectly effective, but when you plan to serve apricot brandy as a standalone drink, you may want to taste several brands and find one of especially high quality. You may also want to think about the things you will pair with the brandy, such as cheeses or desserts.
To make a version of apricot brandy at home, you can fill a gallon (roughly four liter) jar with lightly crushed whole apricots and three cups of sugar. Cover this mixture in vodka or another plain alcohol, and then replace the jar's lid. Keep the jar in a cool dry place to ferment, turning it daily for three months, and then strain the liquid through cheesecloth or another fine material.
AS FEATURED ON:
AS FEATURED ON:








By: Malyshchyts Viktar

Apricots provide the flavor and color for some brandy.

By: Artem Furman

Apricot brandy can be drunk straight, used in various recipes, and added to cocktails and other mixed drinks.

By: Pavel Losevsky

Apricots are allowed to ferment for approximately three months, often in steel tanks, before being distilled to make brandy.

By: JJAVA

The flavor of apricot brandy is faintly reminiscent of almonds.

By: emirkoo

Apricot brandy is commonly added to cocktails and various mixed drinks.