Baklava is a type of Greek pastry traditionally made with phyllo dough, honey, nuts, and orange essence. Many other Middle Eastern nations have pastries which are very similar, thanks to a long running tradition of sweet desserts which feature flaky, delicate pastry. While baklava was originally considered a food for the wealthy, today it can be found in many pastry shops and Greek specialty stores all over the world. Baklava can also be made at home, if the cook has experience with phyllo dough.
The word baklava has Turkish origins, reflecting the fact that the dish was perfected in the Ottoman Empire of Turkey. During the period of the Ottoman Empire, the Greeks and Turks freely mixed, exchanging foods and cultural traditions. The result was a rich culinary mix of Middle Eastern and Mediterranean, including things like dolmas and baklava, two popular foods commonly associated with Greek cuisine today.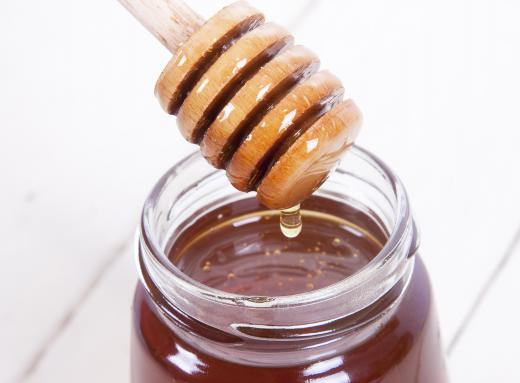 To make baklava, the cook starts with phyllo dough, a type of very fine pastry dough which comes in sheets that cook into fluffy, crisp layers. Phyllo dough is notoriously difficult to handle, because it is so fine and easily dried out. Most cooks keep phyllo dough under a cloth in a humid kitchen while they work, and assemble dishes quickly, before the dough has a chance to turn brittle and unworkable.
Cooks start by brushing a thick baking dish with melted butter, and placing a single sheet of phyllo dough in the dish. This layer is brushed again before another layer is applied and brushed, and so on until half of the phyllo dough has been used. A layer of chopped nuts, traditionally pistachios, is made, and the rest of the phyllo dough is layered on top in the same way used to assemble the bottom. Then the dish is baked in a 350 degree Fahrenheit (180 degrees Celsius) oven until golden brown, which usually takes approximately 20 minutes.
The baklava is allowed to cool and then cut, often into fanciful shapes such as diamonds. A syrup is made from honey, sugar, lemon juice, and orange water, heated together on the stove until they reach a thick consistency. The syrup is poured over the baklava pieces and allowed to soak in, creating a sweet, rich, moist dessert. If kept in a cool dry place, baklava can last a very long time, as the sugars will keep it from decaying.
AS FEATURED ON:
AS FEATURED ON:








By: tetxu

Honey is an ingredient in baklava.

By: lapas77

The Greek version of baklava is traditionally made with orange essence.