Kataifi is a popular Middle Eastern pastry made with a special form of shredded phyllo dough that is also called kataifi. Most forms are sweets, typically with nuts and honey which make them flavorful, crunchy, and very sweet. However, some cooks also use the dough to make unique savory appetizers that may be made with ground meat or vegetables. Many Middle Eastern bakeries stock kataifi, and it is also possible to make pastries with it at home, for cooks with steady hands and patience.
The dough used to make kataifi is a form of phyllo dough, a very thin dough made with wheat and water. However, this dough is shredded into very thin strips, rather than being sold in large sheets. In areas where packaged dough is not available, cooks can create their own by purchasing a roll of regular phyllo dough and cutting it into strips once it has thawed. When working with the dough, remember to keep it covered in a cloth when not in use, and try to move quickly, ensuring that it does not dry out.
To make traditional sweet pastries, cooks blend a mixture of sugar syrup, nuts, and honey. The syrup is made by heating water, sugar, and other ingredients such as cloves and orange essence until the mixture thickens. Nuts such as walnuts, almonds, or pistachios are rolled in the syrup and drizzled with honey, and scooped into strips of buttered kataifi dough before being rolled up into tight little logs for baking.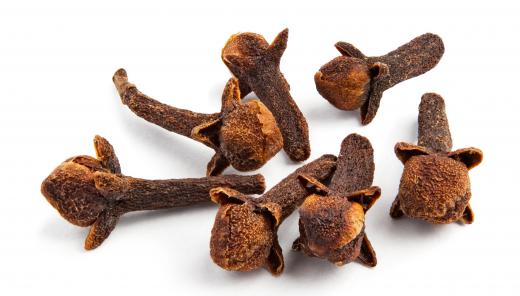 The melted butter used for kataifi saturates the dough, ensuring that it crisps and browns during the baking process. When finished, it has a sweet, gooey core surrounded by layers of fluffy, delicate pastry that melts in the mouth, since it is so thin. Cooks may also drizzle their finished product with honey or orange syrup to add to the sweetness.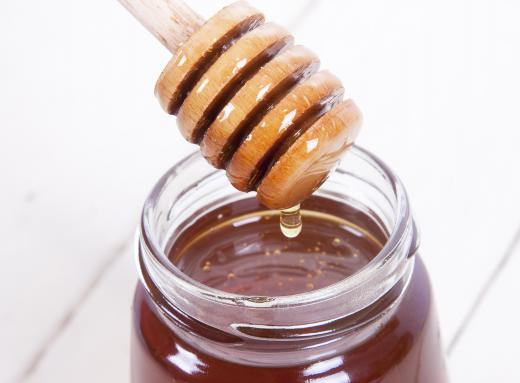 Like many Middle Eastern desserts, kataifi can seem intensely sweet to people who are unfamiliar with the large amounts of honey and sugar used. The sweetness pairs well with dark, savory beverages like Turkish coffee or alcoholic drinks like raki and ouzo. Kataifi are usually served with dessert, often with an assortment of similar sweets for people to choose from. Savory options can be offered as appetizers, and they may integrate ingredients like spices and garlic.
AS FEATURED ON:
AS FEATURED ON:








By: mates

Walnuts are a common ingredient in kataifi.

By: bergamont

Cloves are typically used to make the syrup that goes into kataifi.

By: tetxu

Honey is a common ingredient in kataifi.

By: Dmitry Rukhlenko

Almonds, which are sometimes included in kataifi.

By: Natika

Garlic, which is used in making savory kataifi.