What is Boston Brown Bread?
Boston brown bread is an unusual bread which gets some of its flavor from molasses, and which has an interesting history that stems directly from the resources available in Colonial New England. Early New Englanders needed a bread with what limited resources they had. Since they had more cornmeal and rye flour than wheat flour, the three were combined, helping them to conserve their precious stores of wheat. In addition, as ovens were not available to all colonists, the bread was cooked by steaming, instead of baking it.
Many settlers in New England cooked their meals in fireplaces, instead of ovens, so they came up with a way to cook bread in the fireplace. The bread was steamed, usually in a container that is cylindrical. Metal or glass molds may have been used, while today Boston brown bread is usually steamed in a coffee can. With ovens and stoves being ubiquitous in modern society, the can or other heatproof container containing the bread dough is usually steamed by being placed in a covered pot which contains boiling water.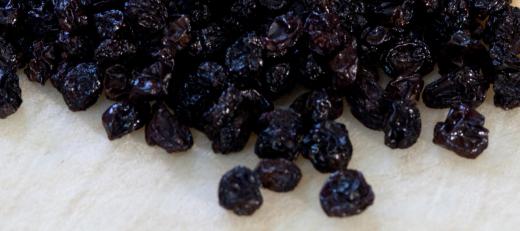 After Boston brown bread is steamed, it is generally slid out of the can or mold, retaining the shape of the container, and served while it is still warm. Boston brown bread is now offered pre-made in a can, or occasionally in bakeries. The bread is often served with Boston baked beans, just as it was in the days of the Puritans.
To make Boston brown bread, start by greasing two one-pound (454 g) coffee cans, or molds or cans of a similar size and shape. Combine in a large bowl one cup (237 ml) of whole wheat flour, one cup (237 ml) of rye flour, one cup (237 ml)of cornmeal — usually yellow — 1 1/2 teaspoon (7.4 ml) baking soda, and one teaspoon (4.9 ml) salt. If desired, one cup (237 ml) of raisins can be added at this stage, taking care to separate any raisins that are stuck together.
Next, in a smaller bowl, combine two cups (473 ml) of buttermilk and 3/4 cup (177 ml) molasses. Stir this mixture into the dry ingredients, stopping as soon as all ingredients are moist. Fill the greased cans with the dough, and cover them with aluminum foil. To seal the cans, two layers of aluminum foil can be used, which can then be fastened around the can with string or rubber bands.
Fill a pot with water, and put some type of rack in the pans, for the cans to rest on. Put the pot, with the rack and cans in it, over a burner on low, and add boiling water until the water level reaches halfway to the top of the cans. Cover the pot, bringing the water to a gentle boil. Steam the bread this way — adding more boiling water if necessary — for two and a half to three hours, stopping when an inserted toothpick comes out clean. Carefully slide the Boston brown bread out of the can. This will be much easier if the cans were well greased before adding the dough!
There are many variations on the basic Boston brown bread recipe. Some recipes replace the rye flour with wheat or white flour. Other dried fruit can be added in place of or in addition to raisins. Boston brown bread can even be baked nowadays, using a loaf pan and baking at 325° F (163° C) for approximately one hour. However, as the steaming is part of the history of Boston brown bread and what makes it unique, most cooks will choose to make the bread by steaming instead of baking.
AS FEATURED ON:
AS FEATURED ON:








By: BigDreamStudio

Raisins are an optional ingredient in Boston brown bread.