Rye is a hardy grain crop that has been under cultivation by humans for over 4,000 years. While not as popular as wheat, it is widely grown throughout the world, especially in areas where wheat has difficulty growing. The distinctive flavor of this grain makes it a frequent additive to breads, although pure rye bread is rarely made in the modern era. Of that grown around the world, approximately one third is used for human consumption.
This grain is far more tolerant to poor growing conditions than wheat, and it grows in soil of low quality where other grains will not. In addition, rye is able to withstand prolonged submersion in water as well as drought. For these reasons, it is frequently planted in areas where erosion control is vital or in fields to provide forage food to livestock and other animals. Rye is far less susceptible to diseases than wheat and other grains, although it is subject to infestation with the ergot fungus, which renders it unusable to humans and animals alike.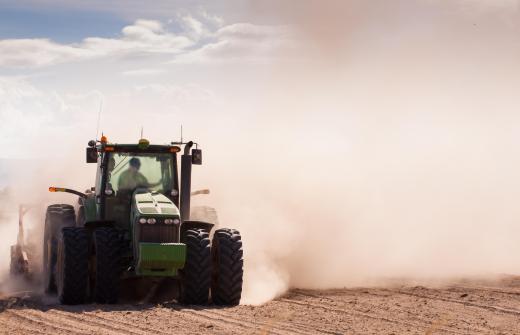 Rye resembles wheat and many other grains, growing as a grass crop and producing kernels. These kernels, however, are smaller and much darker than wheat kernels, and the yield of flour per acre of rye is much lower than that of wheat. The kernels are harvested and threshed and can be ground into flour. The grain is marginally more difficult to harvest and thresh than some other grains, although conventional combine harvest equipment can be used with it.
Flour made from rye is frequently used to flavor traditional breads, particularly those from Eastern Europe and Russia. Although originally, these breads would likely have been 100% rye, they are now blended with wheat flour. Rye has a very strong flavor, which some people find offensive to the taste. Pumpernickel and other dark breads commonly integrate rye flour.
Ergot, the fungus that infests rye, has been around as long as the grain has been under cultivation. Especially in areas with impoverished soil, ergot infestation can be devastating, because it might render the entire grain crop unusable, posing a severe nutritional threat. Ergot is so common that many thought it was part of the plant until the 19th century, when the fungus was uniquely identified and began to be more completely understood. In a mild form, ergot poisoning can result in a hallucinogenic experience — in a severe form, it can cause death and permanent disability.
Rye is grown and harvested in a schedule similar to that of wheat, with most being sown in the late fall and harvested in the summer. The crop must be harvested as soon as it is ripe, because otherwise shattering will occur, spreading the valuable kernels on the ground. The plant is used in a variety of applications besides baking, including the production of alcohol, although it primarily appears as a cover crop to prevent soil exposure and subsequent erosion.
AS FEATURED ON:
AS FEATURED ON:








By: Johan Larson

Rye is widely grown throughout the world, especially in areas where wheat is difficult to grow.

By: Kseniya Abramova

Some varieties of rye grass can be used in pastures.

By: Nomad_Soul

Rye may be used in the production of alcohol.