Braunschweiger is a type of smoked sausage traditionally made from the liver of pigs that is also known as liverwurst. It is soft and spreadable, with a distinctive liver flavor. It is often used as a sandwich filling or a spread for crackers, much like a pâté. Its name comes from Braunschweig, the German city from which it originated.
When making braunschweiger, the liver is combined with pork fat and traditional spices such as cloves, black pepper and allspice. The mixture is ground and stuffed into casings made from the thin membranes of cows or pigs, boiled and then put in a smoker. If casings or a smoker aren't used, the braunschweiger can also be baked in a loaf pan and served in slices. Although pork products are the traditional ingredients, braunschweiger can also be made with a combination of chicken or cow liver as well.
In order for the sausage to hold together, it is considered important to use plenty of fat, which should make up half of the braunschweiger's ingredients. Pork liver is considered very fatty, but some cooks add bacon fat or lard to the mix as well. It is then thought best to refrigerate the mixture for a few hours before grinding, so the fat solidifies and mixes with the meat and spices. The mixture is traditionally soft, but home cooks can use a food processor rather than a traditional meat grinder to produce a coarser texture if desired.
For holiday sausage, some cooks add chopped raw pistachios, ground sage or cardamom to the pâté before stuffing or baking. After the braunschweiger is stuffed and boiled, it is usually chilled again in an ice bath to prevent spoilage. The sausages are then placed in a smoker for about two hours. When the sausage is served, the casings are traditionally discarded. Some cooks prefer to not buy animal casings, which can be hard to find, and substitute thin muslin fabric to wrap around the sausage mixture.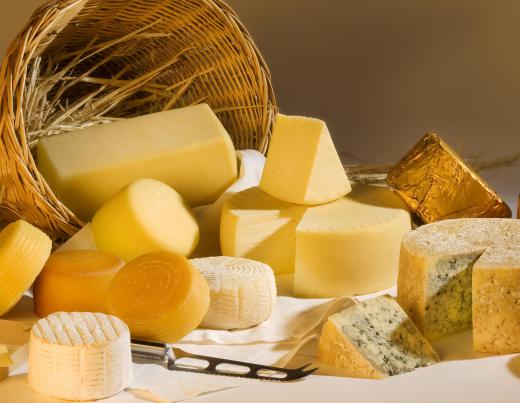 Braunschweiger is also available already prepared at most supermarkets and delis that sell cold cuts and prepared meats. The sausage can be part of a sandwich traditionally made on dark rye or pumpernickel bread with raw onions and stone-ground mustard. Many people who eat braunschweiger also serve it as a dip with a soft cheese and horseradish or pickles. It is thought to be very high in vitamin A and iron and is not considered to have a higher fat content than most other beef or pork sausages.
AS FEATURED ON:
AS FEATURED ON:








By: ra3rn

Liverwurst is also known as braunschweiger.

By: sassyphotos

Braunschweiger can be made with chicken livers.

By: manuart

Braunschweiger can be served with Gouda and other types of mild creamy cheese.