Brown bread typically refers to any type of bread that is dark or brown in color, rather than white breads, though there are also a few specific types of bread that are referred to as brown breads. This includes an American bread commonly called Boston bread, as well as a version of Irish soda bread that is fairly dark in color. Brown bread typically includes whole wheat flour that has not been bleached, which often provides the darker color for the bread, though some breads include syrup or molasses for added flavor and darker coloration.
In general, brown bread tends to refer to any bread that is brown or dark in color, not only on the outside but inside as well. This is usually caused by the use of whole wheat flour or wheat germ that does not fade or lose its dark tone when used in baking. The use of such flour often provides a deeper flavor to the bread, as well as a number of nutrients that can be lost when flour is processed. Many people prefer brown bread due to this added nutritional value, though the stronger flavor also causes many people to prefer such bread.
One of the most common types of brown bread is one made in America, often referred to as Boston bread. The name stems from the location in which the bread was first made and rose to prominent use. This bread is typically made using whole wheat flour, or a combination of flours that are often used in breads referred to as "thirded" breads due to the flour consisting of one-third whole wheat flour, one-third rye flour, and one-third corn meal. Boston brown bread often uses baking soda for leavening, rather than yeast, and is usually steamed in a cylindrical can, rather than dry-baked in a pan.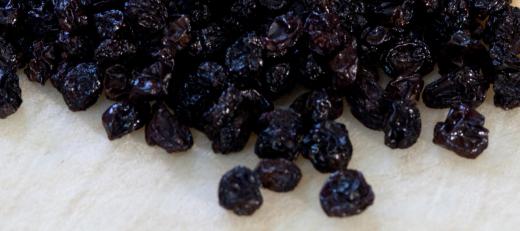 There is also a brown bread version of Irish soda bread made using whole wheat flour and may be flavored with molasses. This type of brown bread is often quite simple and considered a "quick bread" since it does not require excessive time for preparation or rising. It is usually made with baking soda and buttermilk for airiness, rather than yeast, and can often be prepared and baked in about an hour. Some Irish soda bread recipes call for dried fruit, such as raisins, to be added.
AS FEATURED ON:
AS FEATURED ON:








Wheat germ often contributes to the color in brown breads.

By: BigDreamStudio

Raisins are an optional ingredient in brown bread.

By: Elzbieta Sekowska

Brown bread is dark in color on the outside and inside, partly because of the use of wheat germ in the baking process.

By: Sergii Moscaliuk

White bread is made using refined flour and is thought to be less healthy than brown bread.

By: Bert Folsom

Baking soda may be used in brown bread.