Whether someone has an Italian mom or not, chances are he or she has eaten some form of cacciatore at home. Cacciatore is Italian for "hunter," and it usually refers to the sauce that covers browned chicken or rabbit pieces. It is a favorite Italian dish.
Cacciatore is usually composed of tomatoes, onions, mushrooms and possibly, bell peppers. It is simmered for a long time to bring out the flavors and to allow the meat to become meltingly tender. Cacciatore has its history in Italian home cooking, but got its name during the Renaissance. In those days, the peasants were rarely able to afford meat, and hunting was illegal in most places. However, the wealthy hunted frequently and their game was often prepared in the field.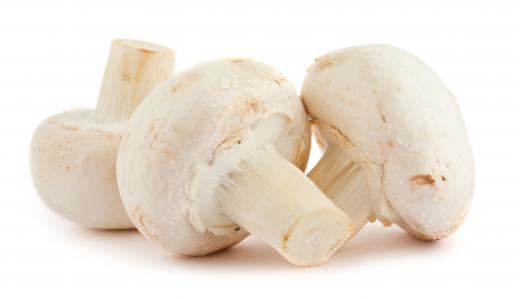 Wild game tends to have a certain "taste" and the bold flavors of the hunter's sauce, the cacciatore, helped cover this taste and make the meat more palatable. It also had the desired tenderizing effect. Chicken in cacciatore has become much more popular in recent years, as Americans, in particular, eat much less rabbit than they used to.
In today's world of low-fat, low-carb food, chicken cacciatore is actually a good dish. The cook can use non-stick cooking spray or a small amount of olive oil for browning, and boneless, skinless chicken breasts, and even skinless thighs are readily available in the supermarket. There are also lots of options for altering this recipe to the tastes of those who will be eating it.
A good, basic recipe has the cook mixing salt, black pepper and paprika with about a half-cup of flour, and dredging the chicken pieces in this mixture. The chicken is then browned in a small amount of olive oil, using a nonstick skillet. When browned all over, the chicken is set aside and the cook takes one medium chopped onion and browns it with one medium chopped bell pepper in the skillet. When the vegetables have started to soften, a can of mushroom pieces, drained, is added and the mixture is cooked until the mushrooms soften.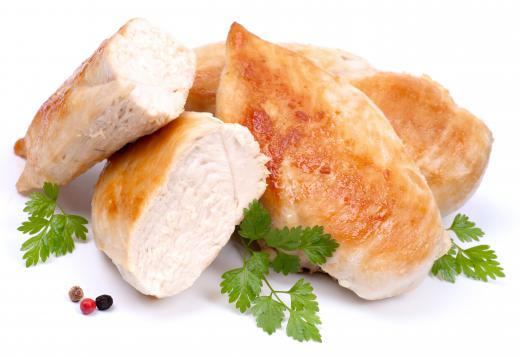 The cook then adds a 26-ounce (768 milliliters) can of stewed tomatoes and Italian spices to taste, to the mixture and cooks it until the broth is bubbling. One-half cup of white wine can also be added at this time. The cook then returns the chicken pieces to the pan and covers the skillet and cooks for about 40 minutes, stirring occasionally. Garlic lovers can also add the desired amount of minced garlic cloves to the onion/bell pepper mixture.
When ready, the cacciatore is seasoned with salt to taste, and served with pasta. This is a hearty meal that requires little effort and is especially good for a chilly autumn or winter day.
AS FEATURED ON:
AS FEATURED ON:








By: mbongo

Mushrooms are usually included in cacciatore recipes.

By: Ekaterina Lin

Paprika is often used to season the flour that the meat used in cacciatore is dredged in.

By: Christian Jung

Chicken breasts are a key ingredient in many culinary dishes.

By: valery121283

Bell peppers are sauteed and added to cacciatore recipes.

By: al62

Salt, pepper, and oregano are commonly used to season cacciatore stews.

By: Andrey Starostin

When making chicken cacciatore, rub the chicken with spices before browning it.

By: Joe Gough

Chicken cacciatore is also known as "hunter's stew."