An herb is a plant whose leaves, seeds, or flowers are used for flavoring food or in medicine. Other uses of herbs include cosmetics, dyes, and perfumes. The name derives from the Latin word herba, meaning "green crops."
Oregano is a collection of perennials in the mint family. The most common include Greek (Origanum vulgare hirtum or Origanum heracleoticum), Italian (Origanum majoricum), Cretan (Origanum onites), and Syrian (Origanum syriacum). Note that the genera names Origanum and Marjorana are used interchangeably by some, and that the herb Marjoram (Origanum marjorana) is in the same family.
For several reasons, there is a great deal of confusion in distinguishing marjoram from oregano. For one thing, they have the same genus, Origanum, while the species differ. For another thing, people call them by each other's names:
Greek oregano, O. vulgare, is called not only wild marjoram, but also Spanish thyme.
Cretan oregano, O. onites, is also called pot marjoram or French marjoram.
Marjoram, O. marjorana, is also called pot marjoram.
O. heracleoticum is sometimes known as winter marjoram.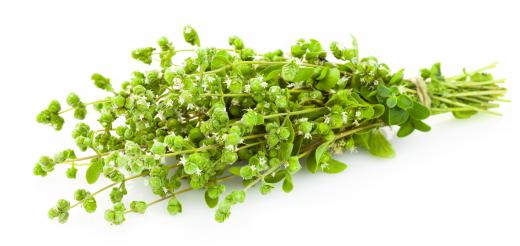 So, you can see how confusing this may become. Marjoram and oregano have more than species and similarity of flavor in common. A USDA analysis showed that these two culinary herbs have the highest amount of antioxidants, and more when they're fresh than when they're dried.
But there are differences, too. Oregano is a hardy perennial, while marjoram is more sensitive; this herb may grow taller than marjoram. Also, marjoram prefers the soil slightly damper.
Another confusion arises between the oreganos mentioned above and Mexican oregano (Lippia graveolens or Lippia berlandieri). Mexican oregano is used in a similar way, but is actually an herb from a different family, with a similar taste but a higher amount of essential oil. There are other herbs that are called oregano, as well, in other parts of the world.
Description. The height and flowering characteristics of oregano vary a bit with each species. The Greek species grows to about 18 to 24 inches (46 to 61 cm), and has white flowers, which bloom from June to August. The leaves are grey-green.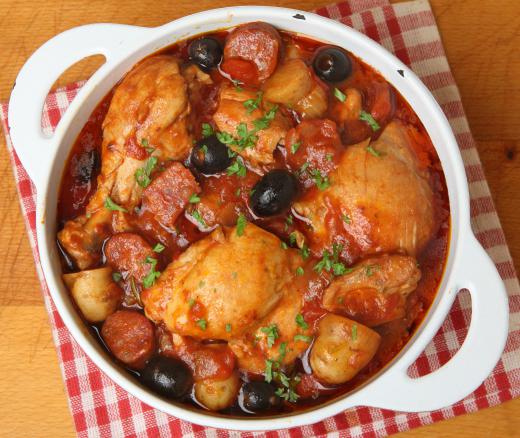 Gardening. The plant spreads assiduously and can be propagated by division. While Greek oregano can grow in poor soil, it does not do well in wet soil. If the plant becomes woody, it can be cut back and will re-grow. It is often recommended for companion planting. Leaves can be used fresh, or dried and kept in an airtight container.
Food and Other Uses. Mexican oregano is found in chili powders, chili, and Latin American dishes. The other oreganos, particularly Greek, is likely to be found in other commercial herb blends. Unless you have access to the various subspecies, the Greek type is likely the one you would wish to use for Italian dishes such as tomato sauces and pizza, Greek meat and casserole dishes, Middle Eastern dishes, Spanish dishes, and French dishes. It is widely used in salad dressings, with vegetables, and in a number of strongly flavored dishes from a variety of cuisines.
AS FEATURED ON:
AS FEATURED ON:








By: Taiga

Freshly picked oregano with small white blooms.

By: SunnyS

Oregano is widely used in salad dressings.

By: Joe Gough

Like many Italian dishes, chicken cacciatore is flavored with oregano.