Cajun cuisine is a form of cooking that originated in Louisiana, USA. It is a mix of French, Canadian, African and Native American influences. When Acadian farmers were made destitute by the British, they learned to adapt local ingredients such as sugar cane, rice, and crawfish into a whole new cooking culture.
A Cajun meal is usually cooked in three different pots. One pot is used for the rice or cornbread, another is used for vegetables and the third is used for the main dish. Onions, celery and bell-peppers are basic ingredients in Cajun cuisine. The seasonings used are mainly cayenne pepper, parsley, bayleaf and scallions.
There is a common misconception that Cajun cuisine is eye-wateringly hot. Although the food usually has a kick to it, it is not nearly as hot or spicy as, for example, a curry. A delicate balance of peppers is what the good Cajun cook strives for. The different peppers are mixed to add flavor, not to add heat.
Cajun cuisine is a simple form of cooking. It does not involve exotic or expensive ingredients and is simple and brown in appearance. The food was originally born out of necessity and has stuck to its original form for decades. At its most basic, it is a type of stew. The word gumbo, which describes a range of stews prepared in South Louisiana, comes from West Africa and means "okra", the main ingredient in the stews.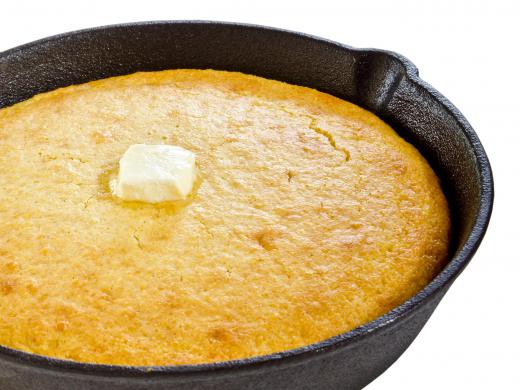 There are a number of ingredients used in the main dishes in Cajun cuisine. These are primarily fish, pork, chicken, turkey or shrimp. This style of cooking relies heavily on different ways of preparing the meat or fish. Boiling, grilling, stewing, deep-frying and smoking are all very popular processes in a Cajun kitchen.
There are many establishments outside of Louisiana that specialize in Cajun cuisine, but be warned that they often make the food a lot spicier and hotter than the original recipes. The idea of traditional Cajun food is to taste the peppers and spices involved, not to burn the palate either in the preparation or with the addition of extra condiments.
AS FEATURED ON:
AS FEATURED ON:








By: Barbara Pheby

Parsley is one of the main seasonings in Cajun cuisine.

By: robhainer

Cornbread is a staple of Cajun cuisine.

By: cobraphoto

Gumbo is a Cajun stew.

By: Monkey Business

Rouille is a piquant Cajun sauce often served with seafood.

By: Comugnero Silvana

Blackened seasoning pairs well with many fish and seafood dishes.