Cheese powder is a rich powder made from cheese culture, salt, and other ingredients. The powder is much like typical cheese in flavor, but does not contain the moisture that regular cheese has. It is usually eaten on popcorn, vegetables, or other foods and dishes that call for extra flavoring or cheese. It is a popular seasoning and a common replacement for plain salt.
When all of the moisture inside of regular cheese is extracted, a cheese powder will be the remaining result. Since cheese powder has all of the flavor but none of the moisture of regular cheese, it tends to be very rich or creamy in taste. Depending on how much salt is added, the powder may also be saltier than regular cheese. Saltier versions of the powder are ideal for foods such as popcorn or macaroni dishes.
There are several variations of cheese powder available. The powder often comes in different flavors such as mild cheddar, sharp cheddar, Parmesan, and white cheddar. Extra seasonings and spices are also commonly added to create spicy cheese powders or other types of unique flavored powders. Some powders may be richer and fuller in flavor, while others will have a more mild or salty taste.
Typically, dry cheese powder is added to or sprinkled on cooked vegetables, pasta or macaroni dishes, baked potatoes, salads, and soups. The powder can be used to substitute both regular cheese or salt. It is also commonly used to simply add more flavor to a meal or snack. Many prefer to use the powder on snacks such as popcorn or crackers, while others prefer to eat the powder in more hearty foods and dishes.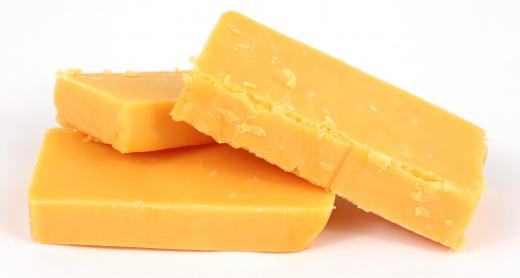 The powder usually comes inside of a small container that uses a cap with holes, much like a salt shaker. It can also come packaged inside of boxes, large plastic containers, or bags. If the powder is purchased in bulk, it tends to come inside of a larger container with a spoon or scooper, rather than a shaker cap. Many types of cheese powders can be easily purchased from a grocery store or market.
Cheese powder is commonly used as a substitute for salt, especially on popcorn. The powder is normally salty and has more flavor than plain table salt. It is typically much more caloric than salt, however. Those who are dieting or watching their caloric intake should carefully read the ingredients and nutritional facts on the packaging. It can be easy to consume too much by accident, so it is also important to monitor quantities.
AS FEATURED ON:
AS FEATURED ON:








By: Elenathewise

Parmesan, seen here in chunks, is a popular flavor for cheese powder.

By: coffeemill

Cheese powder on popcorn is a common replacement for salt.

By: Bert Folsom

Cheddar cheese is another popular cheese powder flavor.

By: uwimages

Cheese powder is often used as a replacement for salt on popcorn.